Before the session starts
It is useful to have a planning sheet so that you can tick off the tasks that need to be completed before a Collaborate tutorial.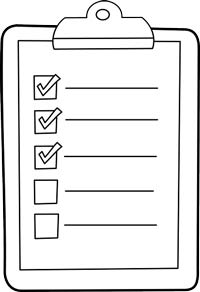 Planning pre-session student support
Check that each student has the correct technology to participate in the Collaborate session. If there is any doubt that the student's own devices are suitable, get the student to check with UHI Helpdesk before the session starts!
Students should ensure that they have the correct extension and add-ins installed and keep the operating system up to date with any updates or patches if they are using their home computers.
For sound, ideally, a headset (headphones with microphone) plugged into the audio port is best rather than the computer or laptop's internal audio pick up (which would allow background noise to be heard).
A webcam, either separate or integral to a laptop, is recommended. If  no webcam is available, a student can join  with only audio input. Students can also join the Collaborate session by phone if necessary but should be aware that mobile device users cannot use a teleconference for audio communications in a session at this time.
Support students with using the technology - both prior to the session and with activities that teach them how to use Collaborate.
Make sure they have information about 'Attending a Collaborate Tutorial' including Joining instructions, etiquette and what the session will be covering. You might also add instructions on what to do if the tutor drops out or the student drops out.

We welcome any comments on how to improve this unit. Please feel free to pass these on at any time.
If you have any difficulty viewing this resource please contact EDU (edu@uhi.ac.uk) with:
the name of the resource;
a description of the problem (please give as much detail as possible);
the section of the resource where the problem occurred;
your internet browser (you can check your browser version at: http://detectmybrowser.com/).
UHI provides links to external sources of information and may refer to specific Web sites, products, processes or services within this resource. Such references are examples and are not endorsements and whilst every effort is taken to ensure the accuracy of information provided UHI is not responsible for any of the content or guidance. You are advised to exercise caution.
×