How to add a favourite
When you find a resource that is particularly useful you might want to add it to your favourites. This will make it easy to retrieve in the future and let other users see which resources you find particularly useful. Click on the resource and within the view resource menu, click on the star icon. The star will turn yellow and the resource will be added to the list of resources appearing in "My favourites". To delete a resource from your favourites list, go to the 'My favourites' section of your profile and select the link 'remove from favourites'. The resource will be removed from the list but you can add it again at any time.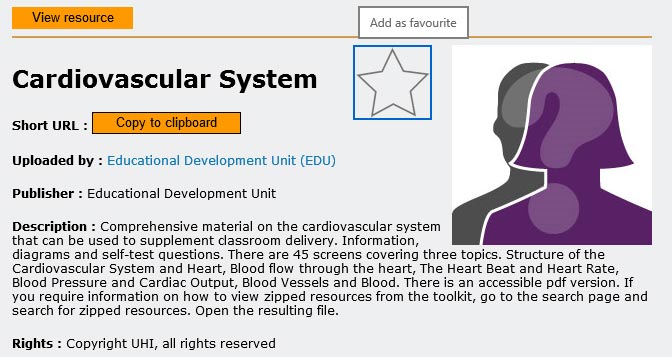 The favourite star in the Toolkit resources which will add it to your list of favourites

We welcome any comments on how to improve this unit. Please feel free to pass these on at any time.
If you have any difficulty viewing this resource please contact EDU (edu@uhi.ac.uk) with:
the name of the resource;
a description of the problem (please give as much detail as possible);
the section of the resource where the problem occurred;
your internet browser (you can check your browser version at: http://detectmybrowser.com/).
UHI provides links to external sources of information and may refer to specific Web sites, products, processes or services within this resource. Such references are examples and are not endorsements and whilst every effort is taken to ensure the accuracy of information provided UHI is not responsible for any of the content or guidance. You are advised to exercise caution.
×