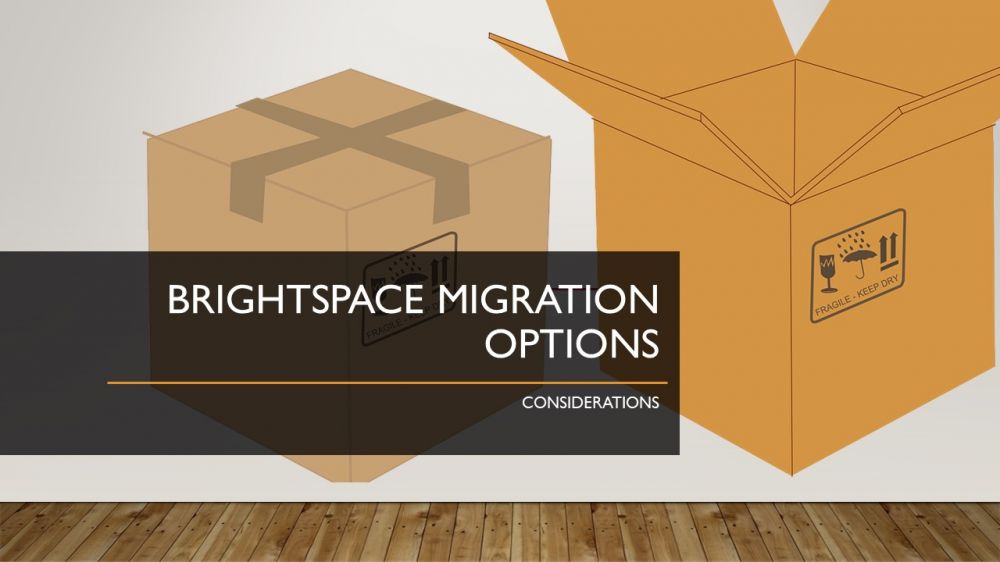 Overview
This guide was originally written to support a Champions' Forum session on migration (24.1.19). It has been expanded to cover which items migrate well from Blackboard and which should ideally be transferred by different means in more detail.
When it comes to building units/modules in Brightspace, staff have two options: build from scratch, which might involve self-migration of some materials; or have LIS migrate all existing content.
This brief session will dig into the migration options and associated processes for staff, focusing in particular on various arguments for and against each:
Option 1: Clean slate
Option 2: Full migration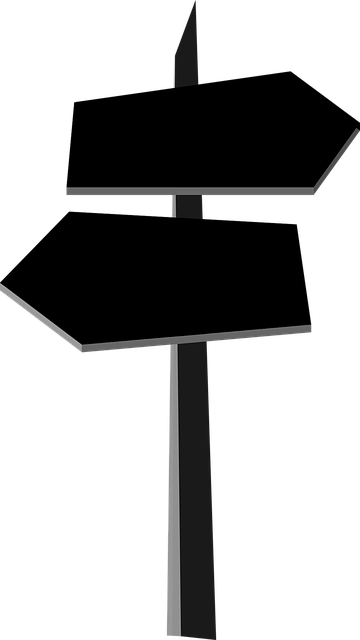 DIY (clean slate) vs All-inclusive (full migration)
On the face of it, these choices would appear stark: clean slate or full migration. However, it's more realistic to think of the clean slate as the DIY option vs full migration - the all-inclusive option.
We'll cover the practicalities of making your selection later (though they are well illustrated on the brightspace4staff website), but initially let's talk about the reasons for choosing one over the other.
Let's start with full migration because that's the scenario that was mentioned to me before this session – that some might choose this option because they were low on time and they thought it was the easier option - but first, let's double-check everyone knows how to request options 1 & 2.
Everyone responsible for a unit/module in Brightspace must contact LIS via a UniDesk ticket, to request they be added to the unit/module. Information about this and illustrated guidance can be found on the brightspace4staff site (pictured opposite).
This is essentially migration Option 1: giving staff, at least initially, a clean slate.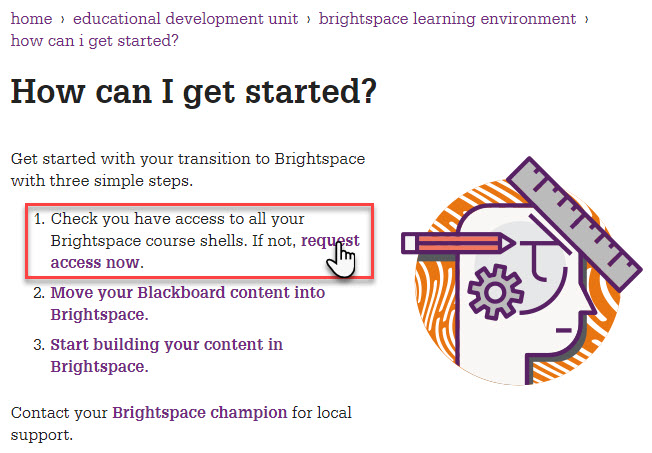 Those wishing a full migration of everything currently in Blackboard need to complete a second UniDesk ticket.
Full migration
This is where a unit/module leader requests that LIS take all existing blackboard content and bring it into Brightspace
There are certainly some legitimately strong reasons for full migration, but it should not simply be thought of as the easy option. There are pros and cons.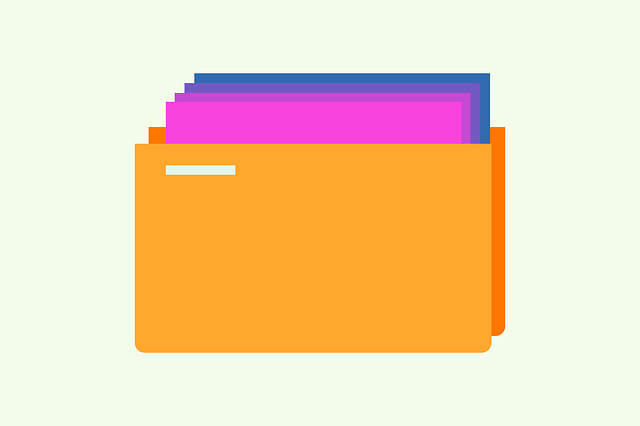 Pros/reasons for selecting this option
If unit/module in Blackboard is very well structured (esp. if numerous items in various sections, e.g. multi-item weeks) and does not feature much content created with Bb tools - the pro here is that tests have indicated that structure and item order will be retained (see example on following page);
If unit/module already ties in with various strategic values – as you know one of the goals for the new LE is to recognise existing good practice and develop future practice and one of the ways this will happen is by embedding learning and teaching enhancement values;
If materials are VLE non-specific (no real use of Bb tools) – if given the chance, you would just rebuild the same unit/module anyway;
If materials already vetted for copyright compliance. Another element of the QA process – copyright clearance. If your existing materials are numerous, dated, potentially full of non-copyright cleared content – this is a very good argument for starting with a clean slate; however, if you have already well-vetted your materials and are prepared to sign them off as such, this could be a strong argument for full migration.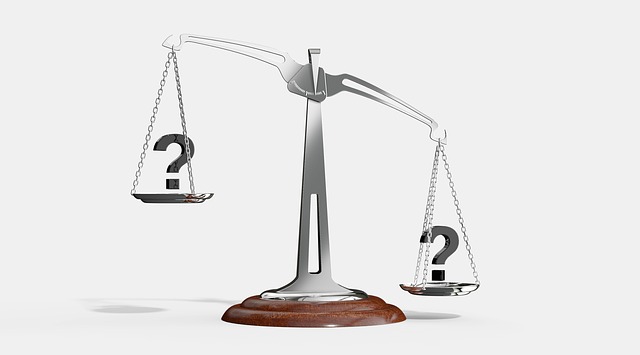 Example of migrated content
Literature review (BACYS) – shows structure and certain items come over well, at least on the face of it (all modules with migrated content will need fully checked to see they are working as expected).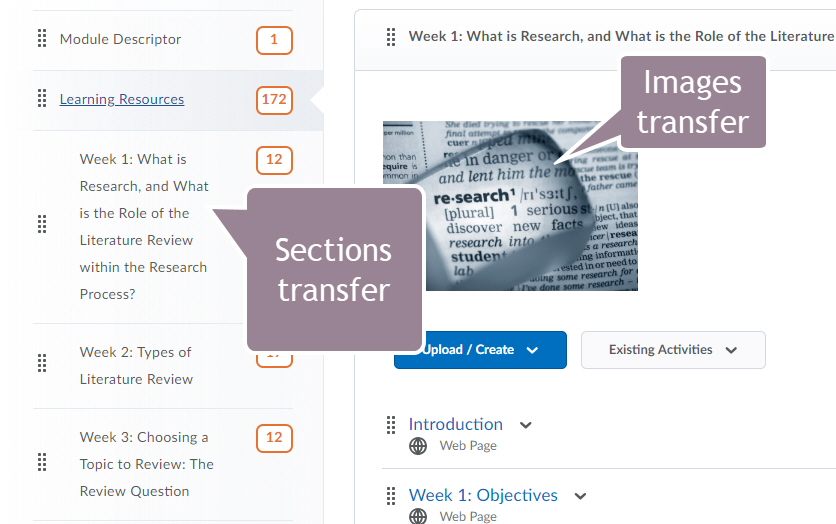 Cons/things to consider if selecting this option
Every page of migrated content will need to be checked for issues (especially links, as any internal links set up using Blackboard will no longer be active);
Anything that bears a specific date will need to be updated (like an announcement) or a due date (like an assignment);
Content created with Blackboard's own tools (such as announcements, assignments, quizzes and Collaborate sessions) may come over partially or not at all - again, a thorough check of every item is essential;
The migrated materials will be the version in Blackboard at end December 2018 (LIS needed to give considerable lead time to Bb before requesting full backups of 4000+ units/modules) – any subsequent additions/revisions will need to be transferred manually.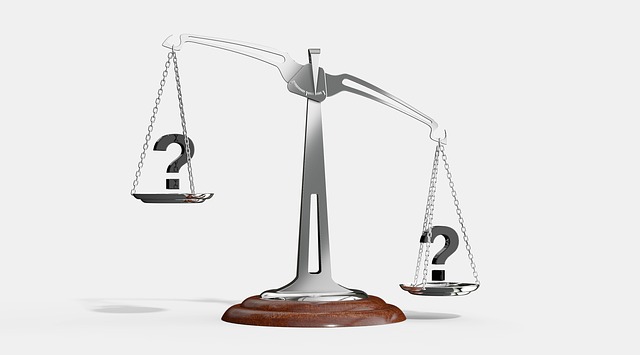 Migration testing
Purely in terms of being able to take something from Blackboard and have it visible again in Brightspace, migration showed positive results. Many types of content transferred successfully, including Word documents, PDFs, html packages, and maintained their existing structure and order of items.
However, there were some item types (mainly those created using Blackboard's own tools), that did not transfer as successfully, if at all e.g.:
mashup content;
calendar items;
scheduled Collaborate sessions;
grade center content;
quizzes;
assignments;
customizations;
wikis;
blogs and
SCORM packages
In some cases, content of this sort will look like it has transferred but a closer inspection will show that links do not work, formatting is not as it was, etc.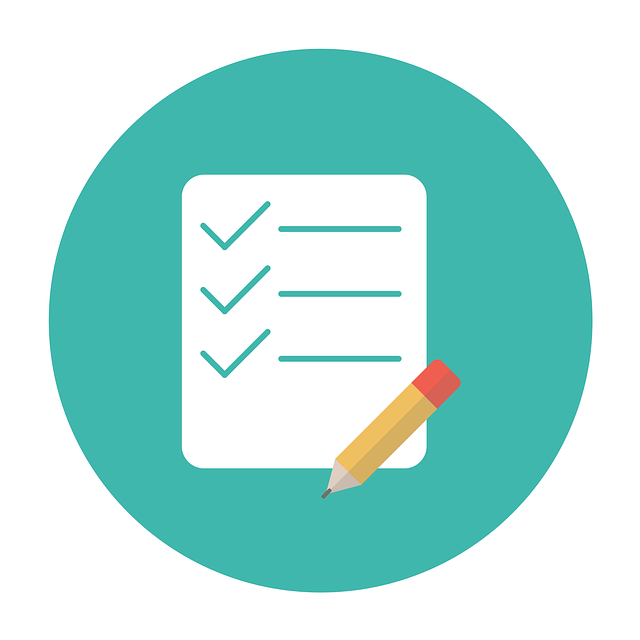 If staff have a lot of content of this type, we would advise self-migration (creation of course package in Blackboard) where such items can be deselected from the list of items being exported.
Clean slate
This is where a unit/module leader opts to take control of the construction of their site
It is true to say that those taking this option will, initially, have just a unit/module shell but there are good arguments to be made for the clean slate – the key is to get away from concerns that this means starting with nothing and having to create every single item afresh.
As covered later in this document, Blackboard's Export Course Package facility allows staff (no technical skills required) to control their own migration, bringing in significant portions of existing content (just not everything).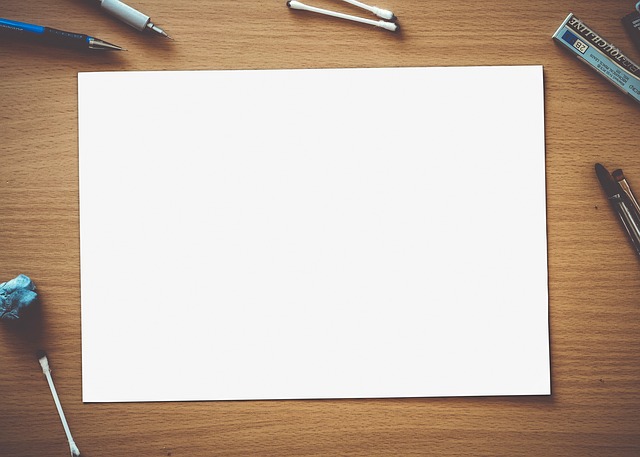 Pros/reasons for selecting this option
Brand new unit/module;
Existing unit/module chaotic;
Existing unit/module repository only;
Opportunity to build from the ground up with new tools;
Opportunity to tie material/activities to strategic values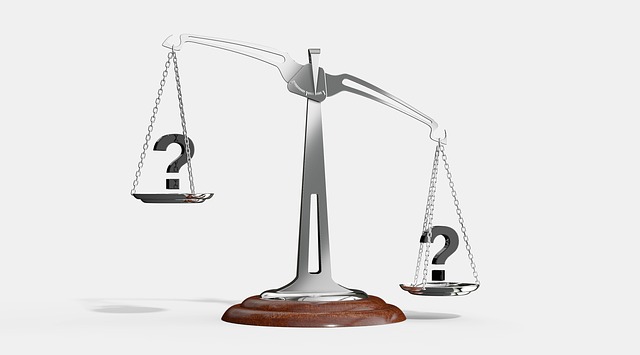 Building a unit/module from scratch – options for content creation
Using the tools within Brightspace (inc. structural help via the 'Course Builder') create items individually;
Upload multiple files using Course Builder and drag and drop into pre-constructed outline;
Import course package from Blackboard.
Or a combination of the three
Note
Bullet 1 would be someone keen to leave Blackboard behind;
Bullet 2 draws attention to how quickly and easily structure can be created in Brightspace (saving time);
Bullet 3, as mentioned previously, allows staff to control their own migration, bringing in significant portions of existing content (but not everything). In the end, for some, this could be quicker and less complex than sifting through the contents of a full migration.
Cons/things to consider if selecting this option
There's no getting round the fact that those opting for option 1 will need to actively construct their unit/module (that said, not necessarily from scratch - any number of items and item types can be imported manually).
As mentioned before, if a member of staff chooses option 1 and does nothing, then all they will have is an empty unit/module; however, with the aid of Brightspace's Course Builder and Blackboard's Export Course Package, a lot of content creation can be created/migrated with just a few clicks.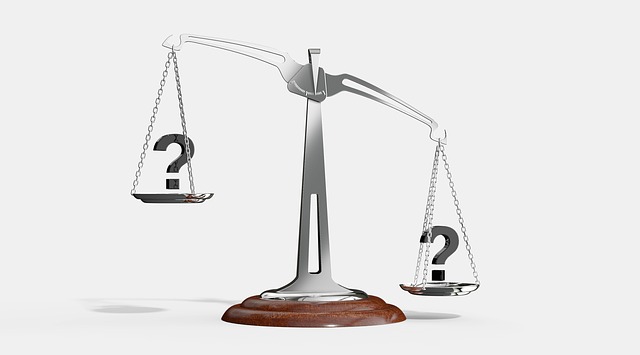 Tidying up your Blackboard module
Important information
Before beginning the process self-migration, it might be a good idea to tidy up your Blackboard module, especially if you have many large files currently stored.
The picture below highlights where, during the export course package process in Blackboard (illustrated on the next page), you can click the Calculate Size button to calculate the size of your module (measures everything files in Files area). The limit is 1GB – if you come close to this It could be a good time for some tidying up before you export.

Video
Video uploaded directly to Blackboard is a common culprit when it comes to overlarge modules. The easiest way to fix this is to download the video from your module, then delete it (go to Course management > Files > download then delete). Then login to the university's streaming server Medial (screenshot opposite), upload the video there and use the resulting url or embed code as a link in to your video in Blackboard.
Duplicate or out of date files are another source of excess material in Blackboard spaces. Go to Course management > Files > select excess files and Delete.
Finally, in the Export course package process, the button to the right of Calculate Size is Manage Package Contents, you can use this option to not include certain items from the Files area - this is a good way to keep package size down.
Creating an export package in Blackboard: Illustrated guide
Expand the sections below to see the full process for creating and export package in Blackboard which can be imported into Brightspace.
In Blackboard
Error reports
When you create an export package, you will automatically receive an email from 'Admin Admin - murdo.macmillan.uhi.ac.uk'. This email (shown opposite) is a summary of a larger more detailed log that is created whenever an export package is created.
Testing suggests that the more course materials you select to copy (especially if they contain Blackboard tool-created content and/or the module has been revised many times and features a messy Files area) the more errors you will see.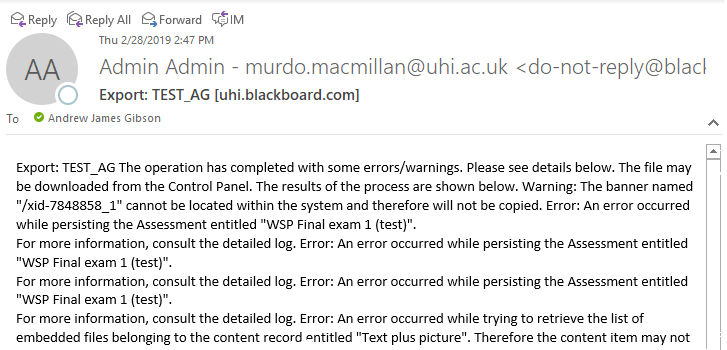 Errors will not stop your package from being created and it will not cause Brightspace to reject it; however, errors do point to content that will not display/function properly in Brightspace.
To see the larger error logs in Blackboard, in Export/Archive course click on the dropdown menu to the right of your Export package and choose to View Basic Log or View Detailed Log.
The Basic Log is the same as the summary email;
the Detailed Log is a sizeable web page that identifies every exception that was found when processing the export request.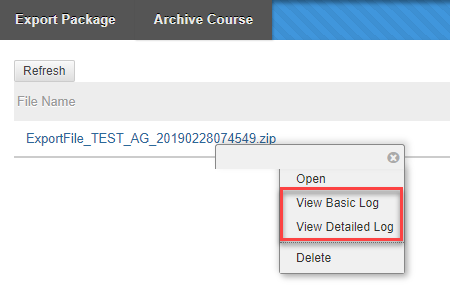 Importing a course package in Brightspace: Illustrated guide
In Brightspace
Summary
There are solid arguments for both migration options; however, I think the main takeaway from this session is that Option 1 plus use of Blackboard's Export Course Package facility offers the best of both worlds – giving staff control over their own efficient migration.