The FAQ tool: Staff guide
The FAQ (Frequently Asked Questions) tool in Brightspace enables you to provide answers to a list of common questions that your students might have.
Although it is a fairly basic tool (questions and answers are organized into categories, though you cannot have sub-categories) it could be a great way to avoid repeating information all of your students would benefit from knowing.


To set up FAQs in your unit/module follow the steps outlined in this guide.
Accessing the FAQ tool
In the navbar at the top of the screen, click on Course Tools, then Course Admin.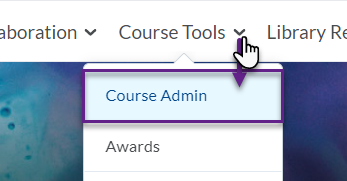 In the Course Admin area, from the Site Resources category, select Frequently Asked Questions.
Note: In the picture opposite the Course Admin area has been ordered by Category; if yours is ordered by Name you will have to search for Frequently Asked Questions alphabetically.

You should now be looking at the Manage FAQ home page, where you can create frequently asked questions for your students and assign them to categories for orderliness.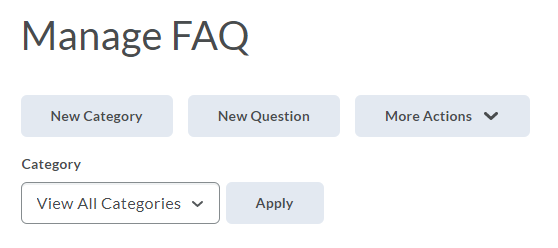 Creating categories and questions
You can either begin by creating categories and then adding questions, or start by writing questions and assigning categories as you go, both approaches will lead to the same result. For this guide, we'll start by creating a category:
From the Manage FAQ screen, to create a category click on New Category.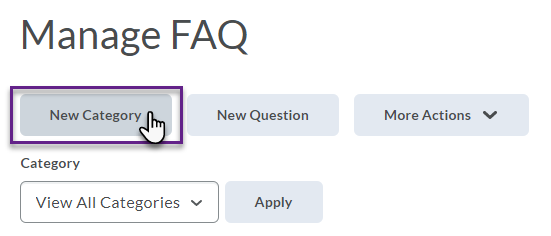 You will be asked to give your category a name and a description.


Note: If you are ready to add questions to your new category, click Save and you will be returned to the Manage FAQ page where you can next click New Question. Alternatively, if you want to continue to create additional categories, click on Save and New and you will be returned to a blank New Category screen.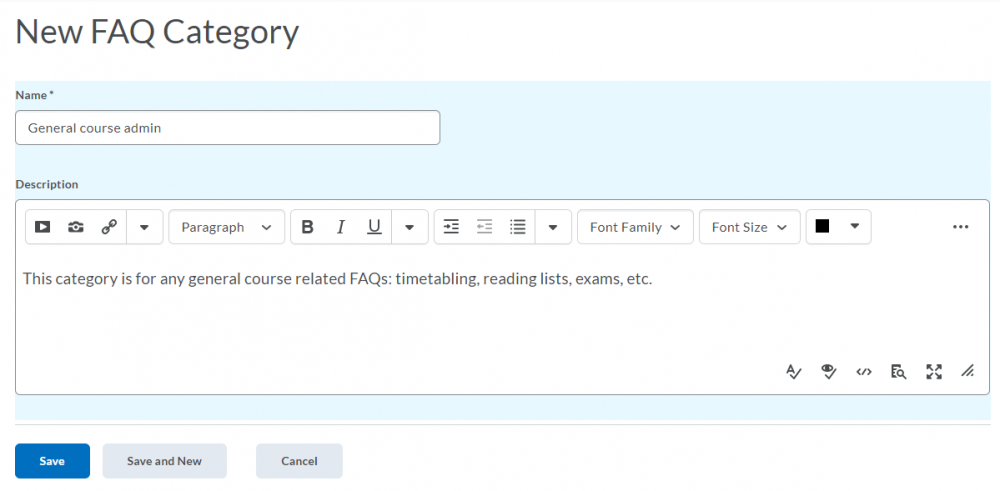 To add a question to a category, from the Manage FAQ screen, click on New Question.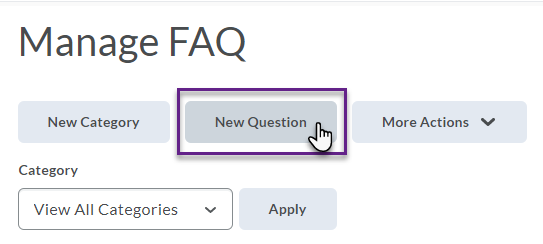 There are three boxes to complete (click on picture opposite to enlarge):
Category – either select an existing category or create a new one by clicking '[New Category]'
Question – A text only box for you to pose your question. There is a lot of guidance online about how to write effective FAQ questions, see below for one example:
Answer – Note that in the Answer area you have the full functionality of the Brightspace html editor. This means that your answer can include formatting, images, video and links (both to areas in your unit/module and external links)
Click Save to return to the Manage FAQ screen or Save and New to continue adding questions.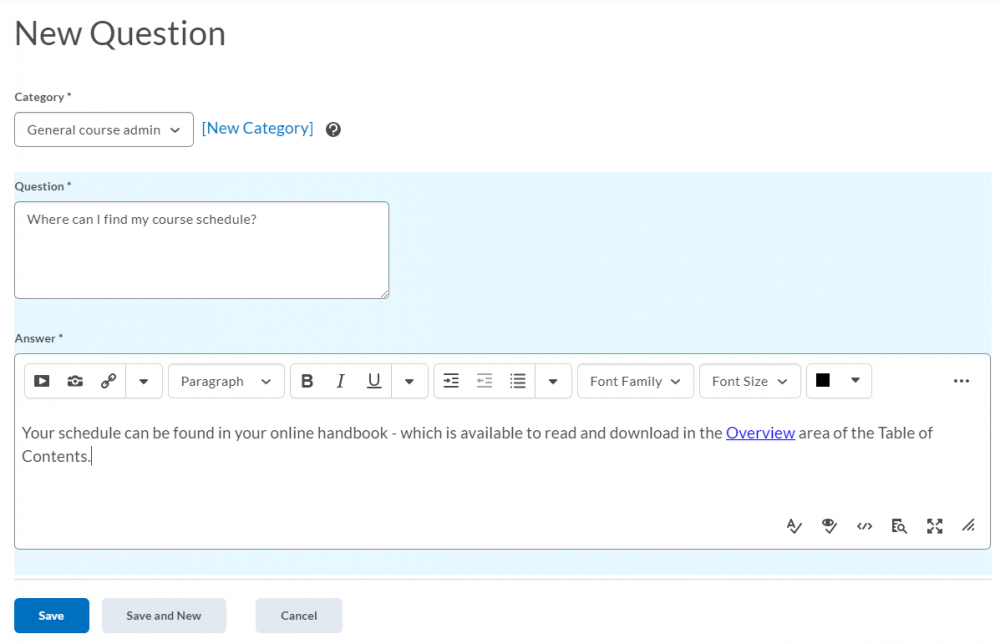 Adding to existing FAQs
As you build up your FAQs your questions will sit under the categories (shaded in blue in the picture opposite) you have assigned them to.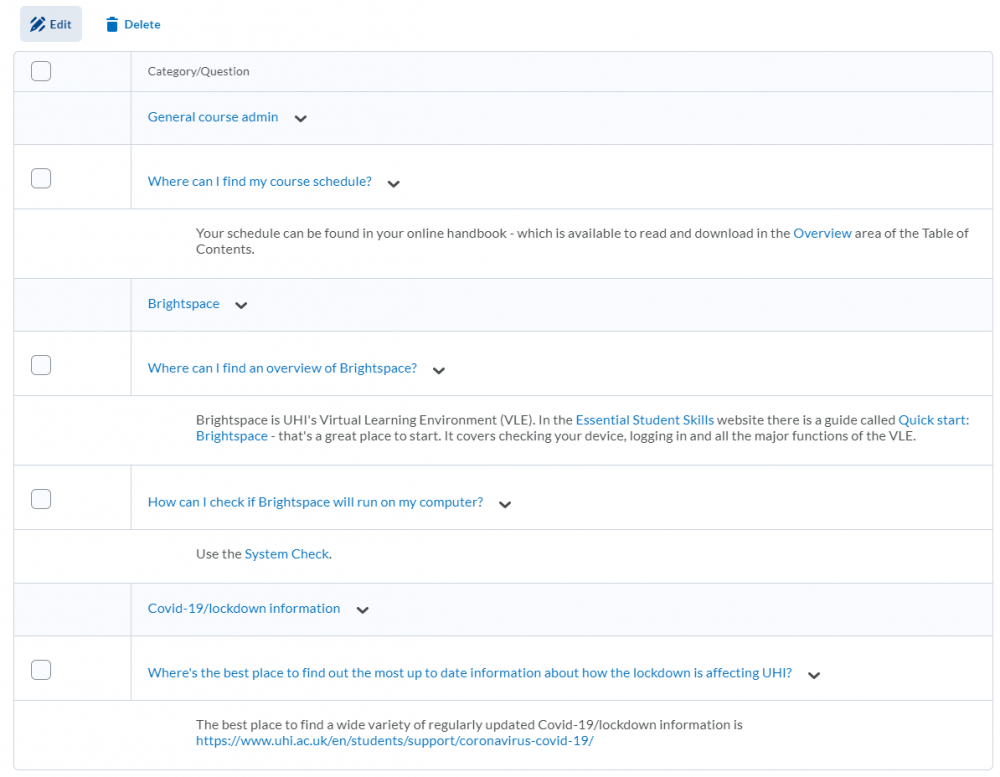 Once you have existing categories and questions, the easiest way to add to them is via the Actions dropdown menus to the right of them.

For example, to add another question to my General course admin category, I would click on the Actions menu and select New Question.
If you wish to edit an existing question, click on the Actions dropdown menu to the right of the question and choose Edit (you can also use this menu to delete a question).
Reordering and previewing FAQs
Student access
The simplest way for students to access FAQs is by clicking on Communication and Collaboration in the navbar and scrolling down to FAQ (shown opposite).


If you want to embed links to FAQs in course content, unfortunately, there is no specific quicklink for FAQs in the Brightspace html editor. This makes it harder - but it is not impossible.
You will need a blank Word document or a Notepad pad open. Once you have that, to create a link to your FAQs within your unit/module, follow the steps below: