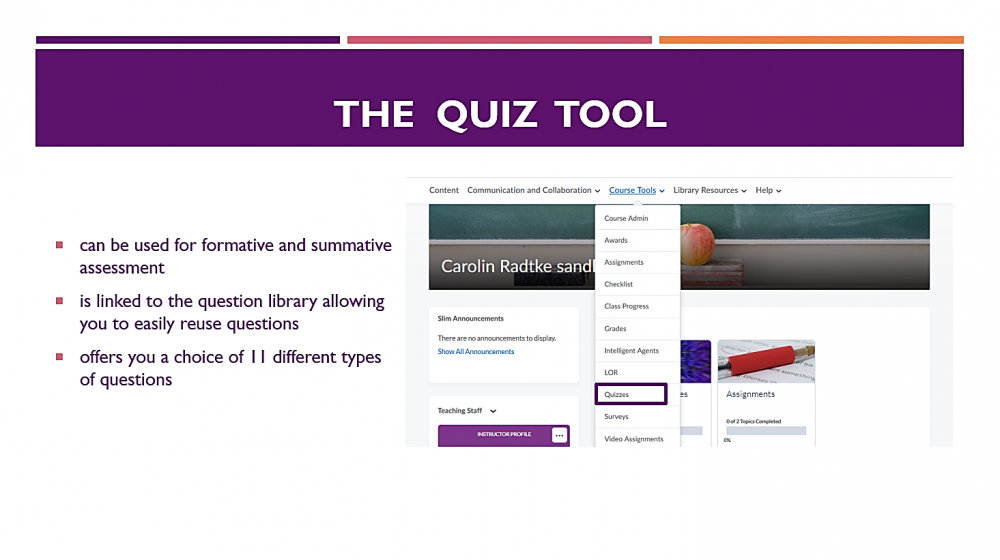 The Quiz tool








From your homepage, navigate to Course Tools and then Quizzes.
Once you have entered the Quiz tool, you will see the following options. The tab labeled 'Manage Quizzes' allows you to create new quizzes or work with the quizzes you might alreadty have there. The tab labeled 'Question Library' allows you easy access to your question library where you can edit exsiting questions or create questions that you can import into quizzes later on. The 'Statistics' tab gives you access to statistics you might have set up for your quizzes. In order to start a new quiz, click on the blue 'New Quiz' button.

Setting up a new quiz
Once you have clicked on the blue 'New Quiz' button, you will be taken into the quiz editor. In there, you can see 6 tabs labeled 'Properties', 'Restrictions', 'Assessment', 'Objectives', 'Submission Views', and 'Reports Setup'. Today, we will go over the first five tabs. Start in the 'Properties' tab by giving your quiz a name.


Image 1
Creating, adding and editing questions





To start creating and adding questions, click on the 'Add/Edit Questions' button. Also click on this button if you would like to edit your questions.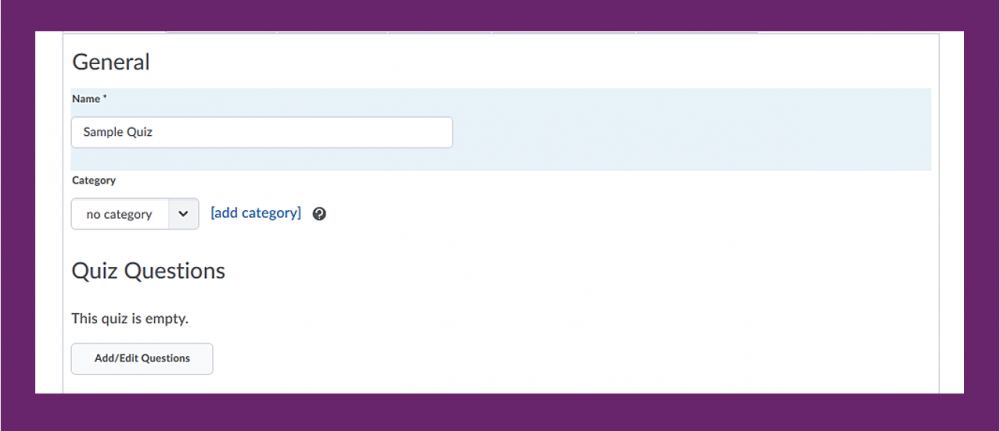 Image 1
You have the choice between 12 different types of questions.

You can create the following question types in the Quiz tool and the Question Library:
True or False (T/F)
Multiple Choice (M/C)
Multi-Select (M-S)
Written Response (WR)
Short Answer (SA)
Multi-Short Answer (MSA)
Fill in the Blanks (FIB)
Matching (MAT)
Ordering (ORD)
Arithmetic (2+2)
Significant Figures (x10)
You can create the following information items in Question Library: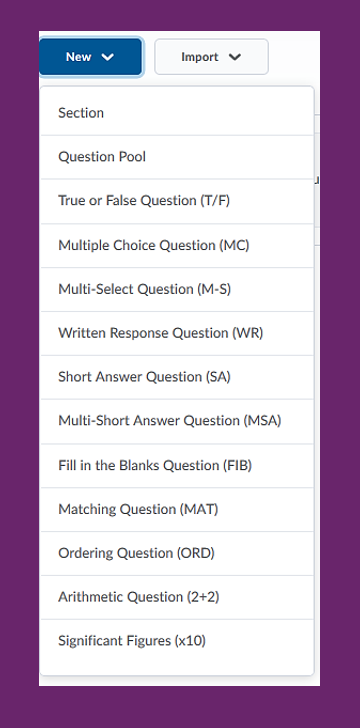 Image 2
Once you have added your questions to the quiz, you can either keep editing them in the questions area (Image 3), or you can edit them in the Properties area of your quiz (Image 4).






If you edit the questions in the content area you can make the following selections and customisations:
| | |
| --- | --- |
| Questions per page | This allows you to determine how many questions you want to display per page. This is especially useful if you have a really lonkg quiz since it will help break your quiz into chunks. |
| Prevent moving backwards through pages | This will prevent students from going back to previous questions. This way, they can only move forward once they have answered a question. |
| Shuffle questions | This means that questions will be shuffled when students are taking the quiz. |
Note:
You can also break your quiz into smaller sections or pages by doing the following.
Between questions, you will see a thing grey line. Locate the line and click on the small triangle in front of the line. This will insert a page break. The line will turn blue and you will see that in Image 5, question 1 will now be on page 1 while questions 2 and 3 will be on page 2.

Image 3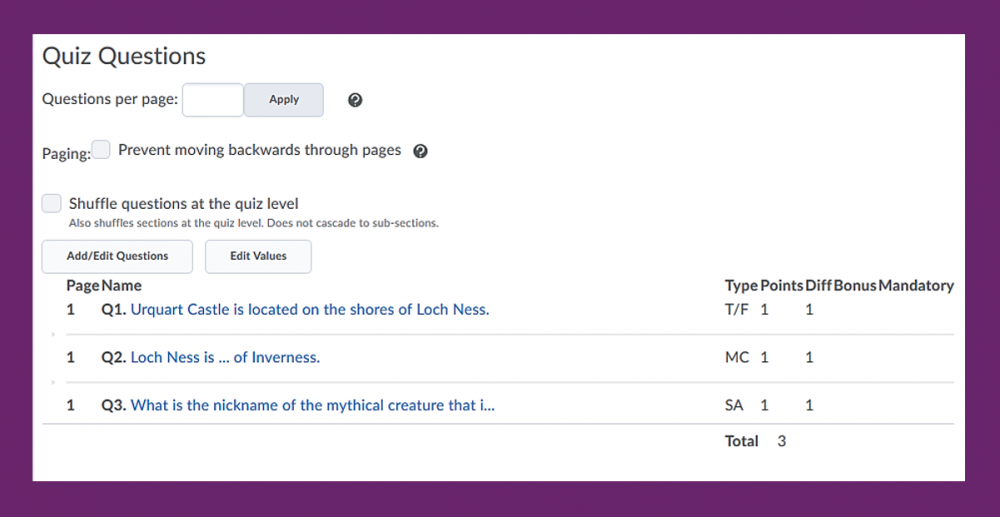 Image 4

Image 5
Previewing a quiz


While most things in Brightspace can be previewed via the student view function, quizzes have a separate preview function. This quiz preview will allow you to see what students will see. You will see the starting screen with all the information that students will see before the start the quiz, you will be able to take the quiz as though you were a student, and you will see any feedback as students will see it.




To start this preview, navigate to the drop-down menu next to the quiz you would like to preview (1), and select 'Preview' (2).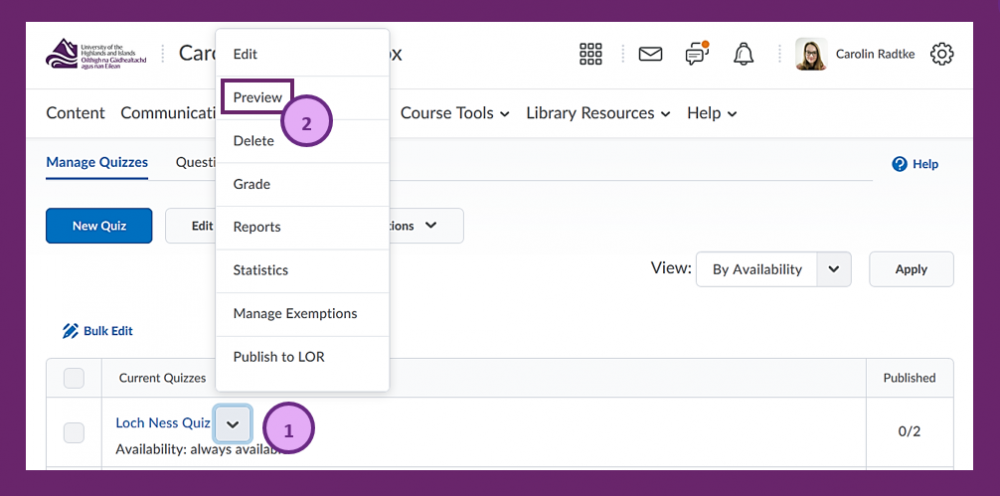 Next, you will see the overview page for your quiz. You will see any description or instructions you put in as well as the number of attempts and time allowed.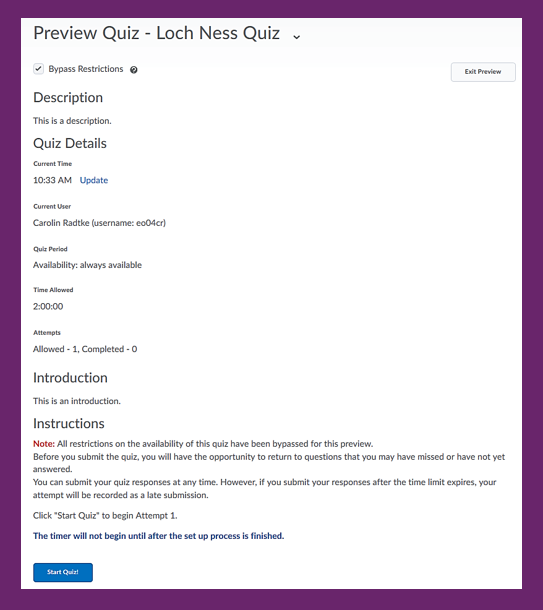 When you are ready to try out the quiz and take it just as a student would, click on the blue 'Start Quiz' button on the bottow of your screen.


You will now be able to see and complete the quiz questions just as a student would. If you put in any headers and footers, you will be able to see them. You will also be able to try out how your distribution of questions across different pages works.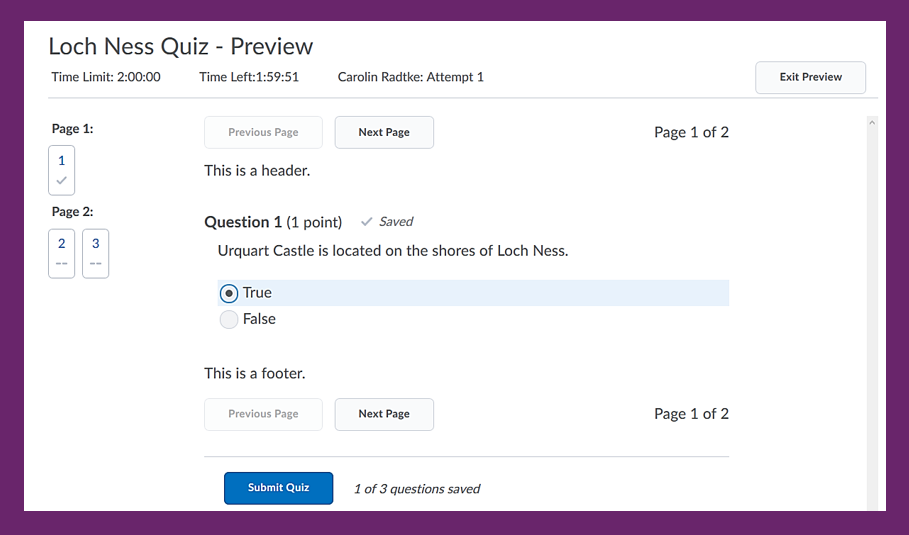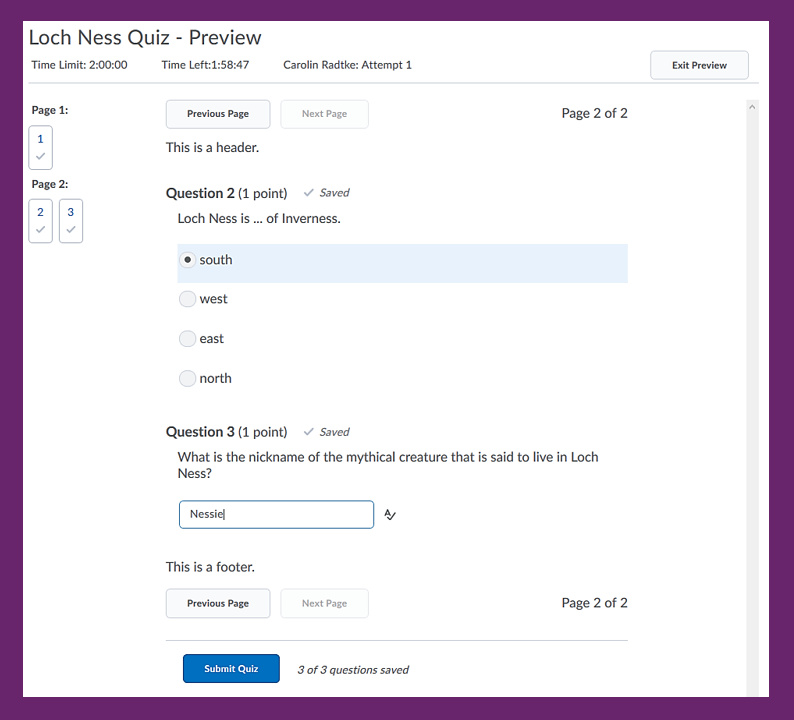 Once you are done, you will be able to submit your quiz by clicking on the blue 'Submit Quiz' button on the bottom of the page.


Before submitting your quiz, you will be asked whether you want the preview attempt to be graded in the Grade Quiz area (2). Any grade given for this quiz will, however not count towards the class statistics for the quiz.
When you are done, click on the blue 'Submit Quiz' button (1).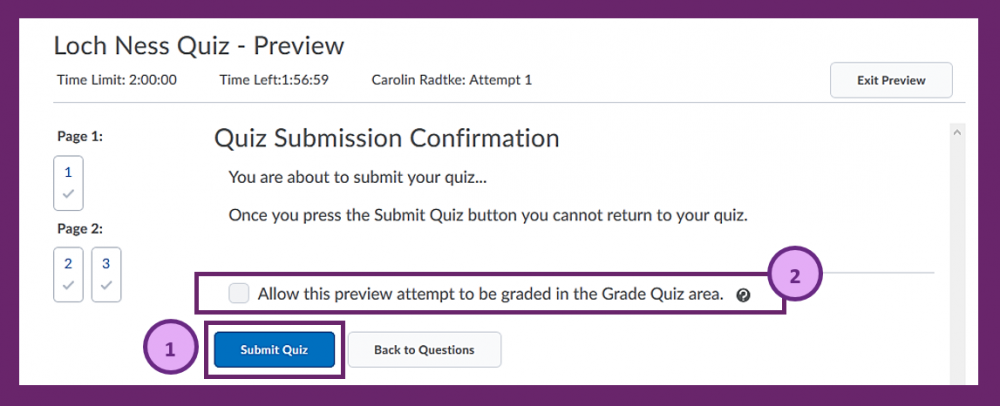 Once you have submitted the quiz, you will see what students will see in the submission view you have set up. This is just the basic submission view, but if you have changed any of the settings or created a new one, you will be able to test here what this looks like for students. This could include any feedback, questions answered right or wrong, etc.
When you are done click on the grey 'Exit Preview' or the blue 'Done' button.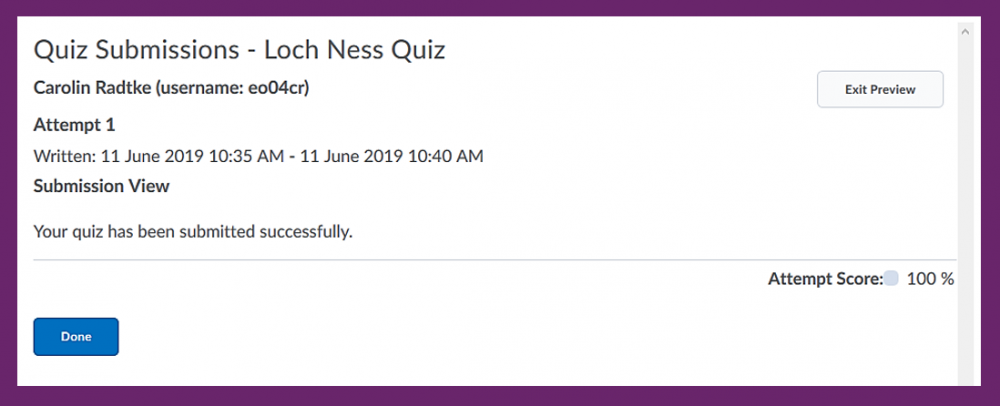 And now it's your turn!


Now you can go ahead and experiment with the quiz tool yourself.
You can either build a quiz that you would like to use in your module anyways, or you can try your hand with the following instructions for a wee mock quiz which still gives you room to experiment with any question types you might want to try out.
Mock Quiz Instructions:
Start by creating a new quiz.
Add at least 5 questions to your quiz. Feel free to experiment with different types of questions.
Add an introduction to your quiz.
Enter a due date and a start date for your quiz.
Set a recommended time limit of 30 minutes for your quiz.
Select your quiz to be graded automatically upon completion.
Set your quiz to 2 attempts for students. Change the settings so students can only complete their second attempt if they have achieved at least 50% on attempt 1.
Set up an additional submission view that students will receive after attempt 1. Set the view so students only see the answers they answered incorrectly in attempt 1 as well as the attempted score and overall score of attempt 1.