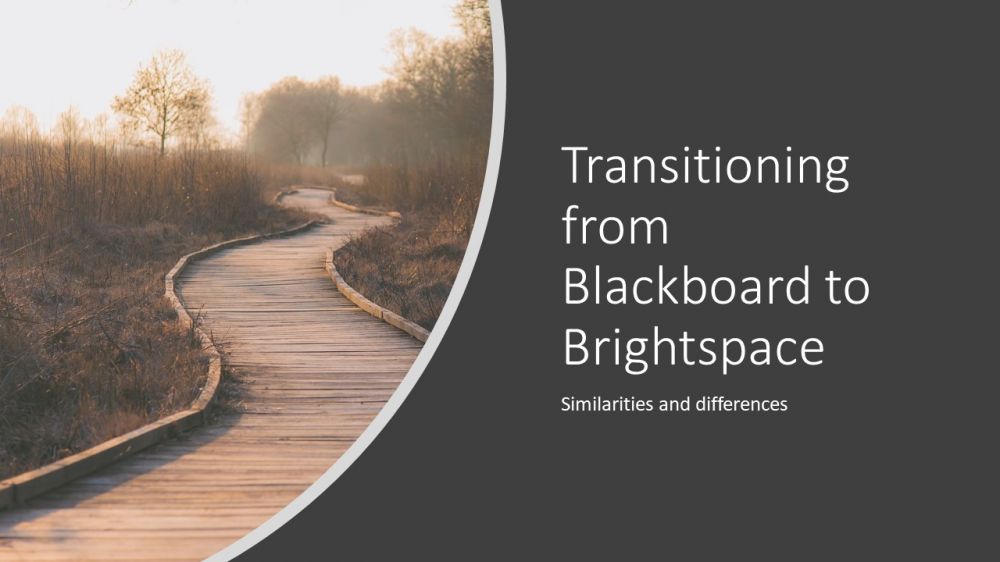 Introduction
The following guide is designed to illustrate the similarities and differences between Blackboard and Brightspace, in particular in terms of structure and content creation.
Staff members at UHI are familiar with Blackboard, familiar with the layout you receive when you ask for a new module to be created. On the face of it Brightspace appears to be different, and does not simply replicate what we had in Blackboard.
Decisions around layout in Brightspace were taken in consultation with nominated champions and try to make the most of the options offered by Brightspace. The following pages illustrate where you can find Blackboard content areas in Brightspace.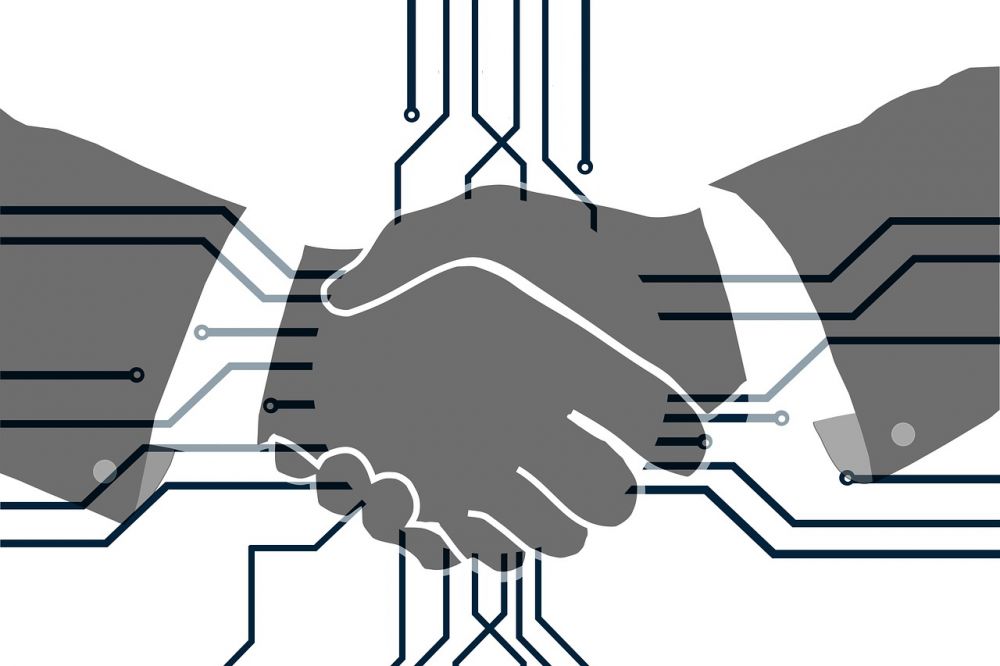 Content areas
Content areas were what Blackboard termed the headings down the left-hand side of a module page. If a module leader asked for a shell to be created in Blackboard, the default list of content areas was:
Announcements
Staff information
Module descriptor
Module information
Learning resources
Assessments
Discussion board
Essential Student Skills
UHI Libraries
Student services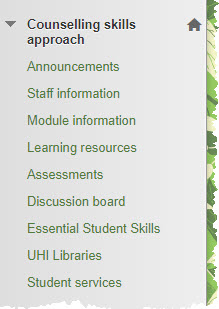 Over the next few pages we will tackle each of these content areas, termed modules in Brightspace, illustrating where that functionality can now be found.
Note
The final page of this guide features a downloadable table that summarises the similarities and differences in terms of layout between Blackboard and Brightspace.
Announcements
Like Blackboard, Brightspace displays announcements for students prominently in the top 1/3 the unit/module home page, via the Slim Announcements widget (opposite).
This widget restricts initial display to approximately 50 words of text only. A Read More button takes users to the full text.
This may seem like a small matter but this means that staff are able to create lengthy media-rich announcements if they want without the risk of them causing undue scrolling which would be the case with the standard announcements tool.
The Slim Announcements tool is also collapsible (hideable) if desired.
Importantly, the placement and the size limit of Slim Announcements means that those viewing course Brightspace by smartphone will see announcements first.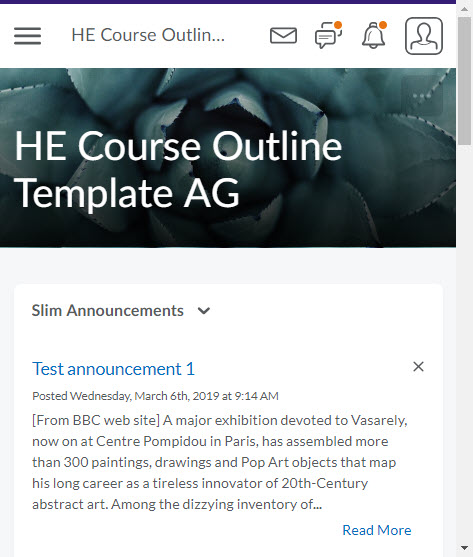 Creating announcements
In a change to Blackboard, the Announcements tool is not accessed via a content area link on the left side of the screen, it is accessed via the navbar (Communication and Collaboration > Announcements), this is where as a member of staff you go to create/edit announcements.
Staff information
In Brightspace, staff information is displayed on the unit/module homepage via the Teaching Staff widget. The widget displays on the left side of the screen, beneath Slim Announcements (opposite).
By default the widget displays generic content. The next page goes through the steps for editing the Teaching Staff widget.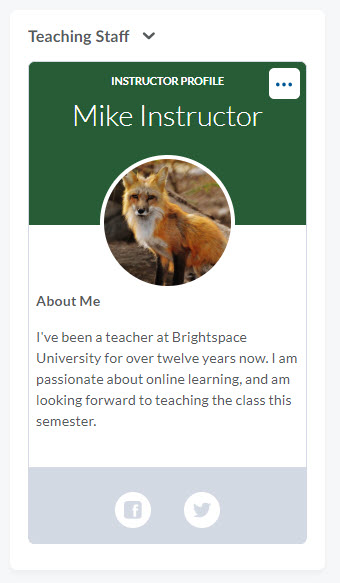 Editing the Teaching Staff widget
Each area (including background colour) of the widget can be edited.
Module descriptor/ Module information
In Blackboard staff often opted to hide Module descriptor, adding the descriptor file, if at all, to Module information.
In Brightspace there are no longer content areas called Module descriptor or Module information; however, there is a built-in Overview page and a module called Module introduction (shown opposite) - we would suggest these offer very similar if not improved functionality.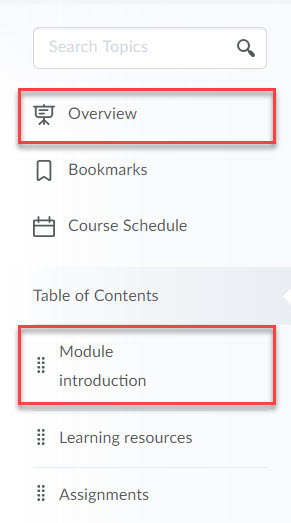 Overview
In the Content area Overview is the first item that students will see on entering your unit/module for the first time (NB: this is only if it is populated; if you do not use this page, it will not be visible to students).
Think of it as an item rather than a folder, designed to accommodate a certain amount of text (and links, images, etc. if desired) and one attached document (we suggest it could be a good place for a module descriptor or module handbook).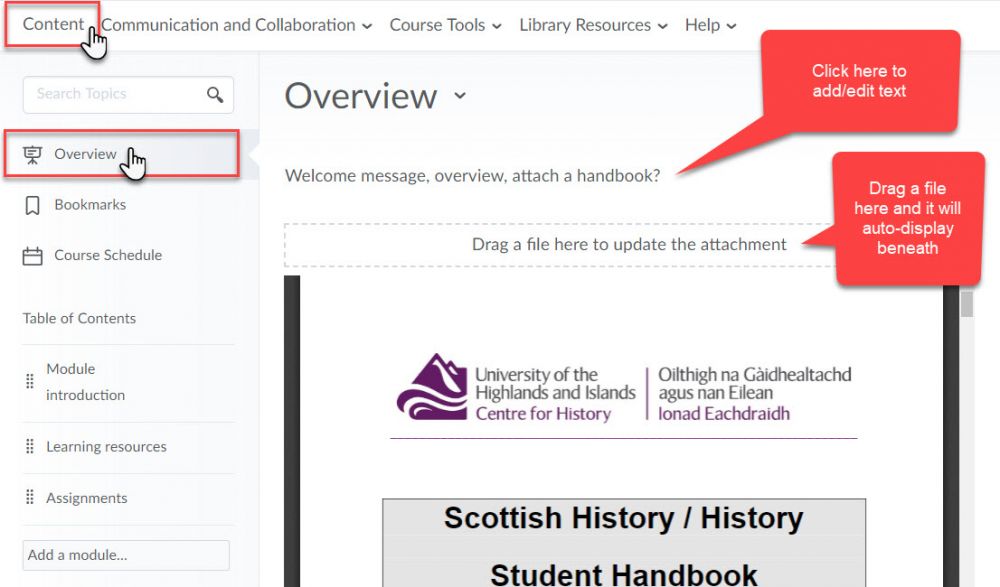 Module introduction
Very much like Module information in Blackboard, this module in Brightspace can house any number of items related to your unit/module.
You can also add sub-modules (e.g. Staff information, if you want to draw more attention to the staff on the course than you were able to in the Teaching Staff widget).
To add items to this area use the Upload/Create list (opposite):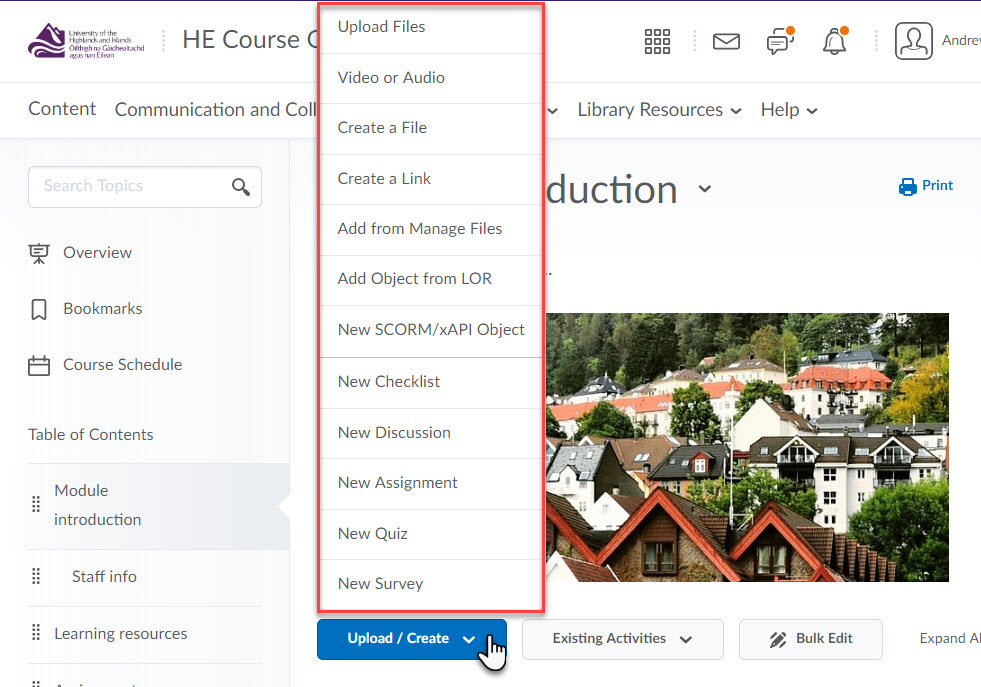 Learning resources
The standard outline in Brightspace features, just like Blackboard, a content area called Learning resources.
You can structure and add content here in a similar way to Blackboard. You can create modules or sub-modules to differentiate (e.g. topics or weeks) and within them use the Upload/Create menu to publish material and activities (opposite).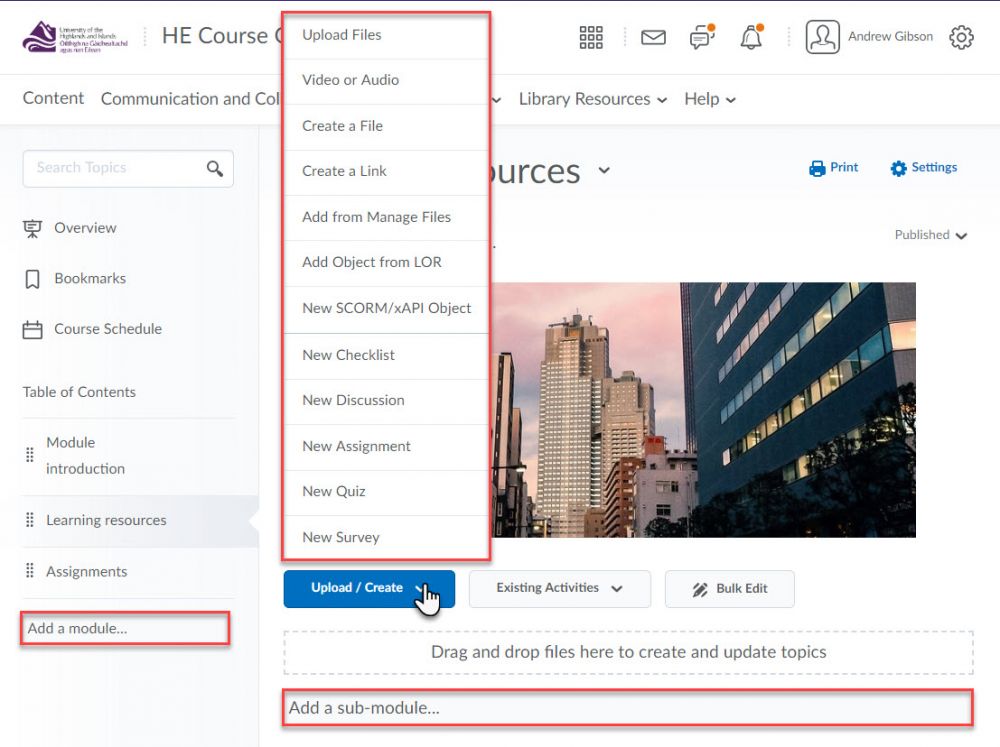 If you choose to Add a module (leftmost option in picture above), new modules will initially sit beneath the Assignments placeholder.
To reorganise/move these simply hover over the 8 dots to the left of the new module – wait for the cursor to change to a four-arrow icon, then left-click and drag the module to where you want it.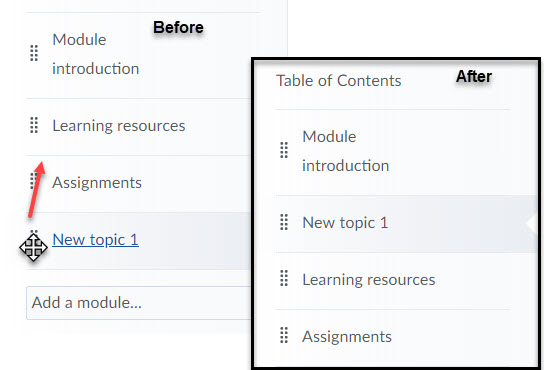 If you decide that you want to make a module a sub-module, click on the module, then from the dropdown menu to the right of the title, select Move To.
If you move a module to another module (e.g. New topic 1 to Learning resources) it will automatically become a sub-section.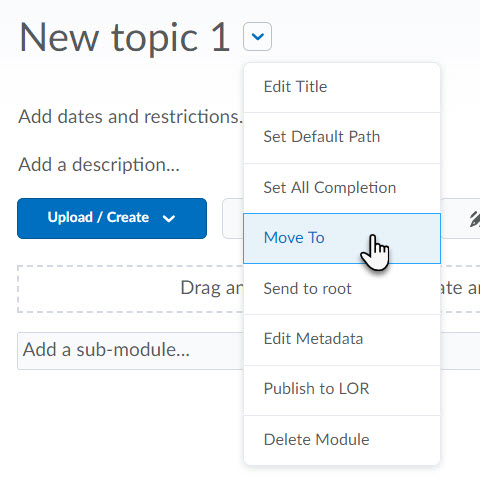 Assessments
The setup for assessed work in Brightspace is very similar to the way it was in Blackboard.
In Brightspace there is a placeholder module called Assignments.
Within the Assignments module, you can use the Upload/Create menu to add content to this area (e.g. New Assignment) (shown opposite).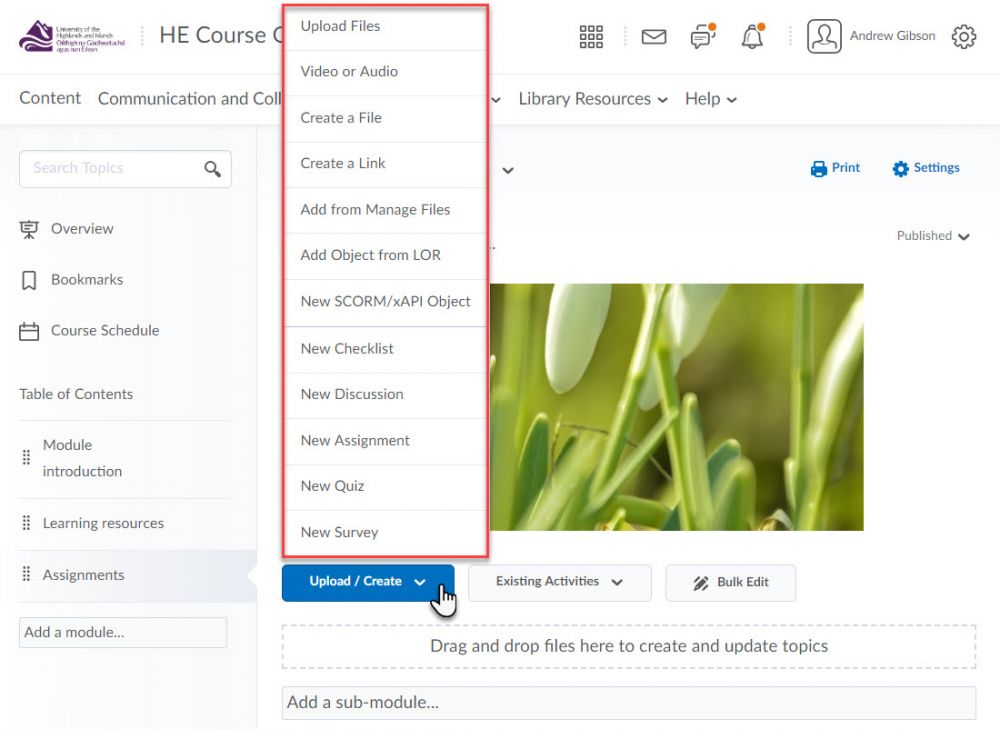 You can also create assignments via the navbar (Course Tools > Assignments). This takes you to the same New Assignment engine.
If you use this method – to place the assignment in the Assignments module, you will use the Existing Activities dropdown menu and then click on Assignments to pull in the assignment you wish (shown opposite).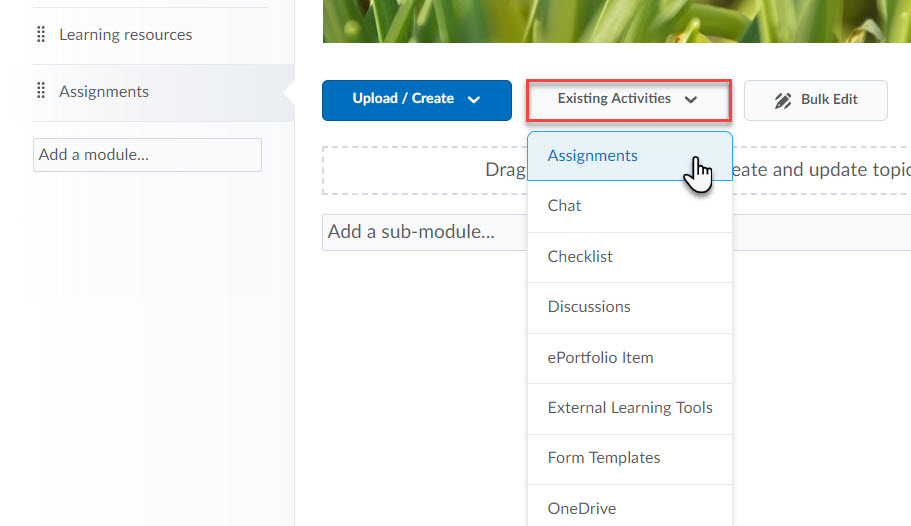 Discussion board
There is no placeholder on the left-hand menu in Brightspace for Discussion board. In Brightsapce the tool is called Discussions and this functionality is accessed via the navbar (Communication and Collaboration > Discussions).
You can either inform students that that is where they should go to take part in discussions, or like Blackboard, you can embed links to discussion forums/topics anywhere in your unit/module (e.g. in an announcement; within a sub-module in Learning resources; or if you wish, you can create a whole module called Discussions).
There are three methods for adding discussions to your unit/module:
Within the module/sub-module that you wish the discussion link to appear, click on Upload/Create > New Discussion:

Via the navbar (Communication and Collaboration > Discussions):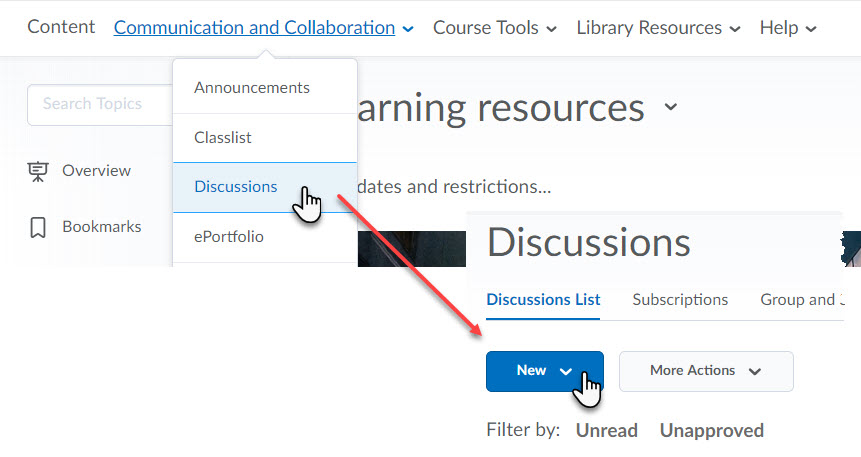 Or, if you have already created a discussion that you want to embed in a particular area of your unit/module, navigate to the particular module/sub-module and click on Existing Activities > Discussions: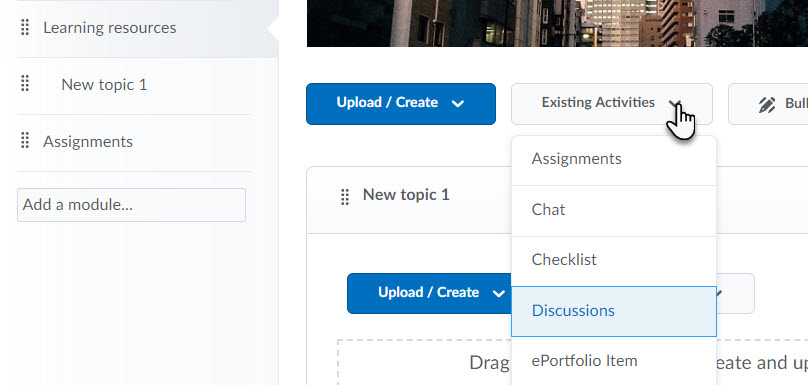 Essential Student Skills
Essential Student Skills does not appear as a content area in the left-hand menu in Brightspace.
The Essential Student Skills resources are now accessed via the navbar (Help > Essential Student Services):​

UHI Libraries
Links to various aspects of the UHI Library system are now embedded in the Brightspace navbar (Library Resources):

Student services
A link to the Student services area of the UHI web site is now embedded in the Brightspace navbar (Help > Student Services):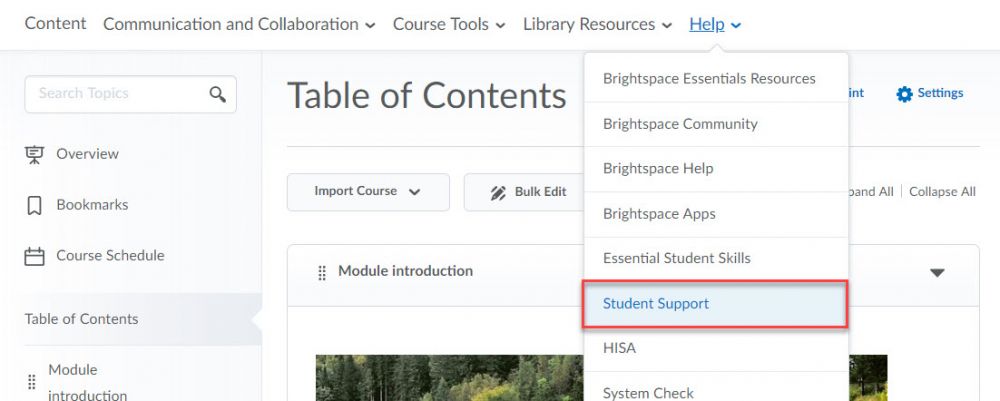 The following table contains much the same information as the pages above but in a single screen, for ease of access. We have also included advice on whether or not to include particular content areas in an export package (self-migration) from Blackboard.
| | | |
| --- | --- | --- |
| Blackboard content area (known as module in Brightspace) | Where found in Brightspace | Include in self-migration from Blackboard? |
| Announcements | [Slim] Announcements are displayed in the left 1/3 of the home page in Brightspace. This placement means they display first on small screens. There is not a module named Announcements in the Table of Contents. Rather, Announcements are accessed via the navbar: (Communication and collaboration > Announcements) | No. We would advise copying any announcements in Blackboard you are likely to want to reuse into a Word document and manually recreating them in Brightspace |
| Staff information | Replaced by the 'Teaching Staff' widget | No. Follow the instructions in the Teaching Staff widget to share information about staff |
| Module information | In Brightspace there is a content area called 'Overview' – this is the first item in the Content area. We consider it a useful feature. It should be thought of as an item, rather than a folder, and in our opinion could be a good place to offer a brief summary of the unit/module, as well as embedding a handbook or descriptor. Use the Module Introduction module to house further information about the unit/module | Possibly. Migrating what you have stored in Module information from Blackboard will not automatically populate the Overview or Module introduction in Brightspace. However, Brightspace makes it easy to move items around (note: populating the Overview must be done from the Content screen). |
| Module Descriptor | The first content area in the Table of Contents is *Module introduction (*this can be renamed if desired) | Possibly. As above, migrating what you have stored in the Module descriptor area in Blackboard will not automatically populate an area in Brightspace. However, Brightspace makes it easy to move items around (e.g. into the Module introduction module). |
| Learning resources | There is a placeholder for Learning resources in Brightspace | Yes. The majority of content housed in Learning resources will transfer over in working order. Following migration, in the Course Builder in Brightspace, you will see two modules called Learning resources, simply remove the empty one. |
| Assignments | There is a placeholder for Assignments in Brightspace | No. Our advice is to create fresh assignments (within the Assignments module) using the tools in Brightspace. |
| Discussion board | There is not a content area in Brightspace called Discussion board, rather we anticipate students accessing discussions either via the navbar (Communication and Collaboration > Discussions) or via links created by staff in Learning resources (Upload/Create > New discussion). As in Blackboard announcements can contain links to activities such as discussions. | No. Migration testing suggests it will be more efficient to create new forums/threads in Brightspace (go to: Communication and Collaboration > Discussions) |
| UHI eResources | Now housed within navbar (Library Resources > Library Homepage) | No. This content is now housed in the navbar (Library Resources > Library Homepage) |
| Student support | Now housed within navbar (Help > Student Support) | No. This content is now housed within navbar (Help > Student Support) |
| Essential Student Skills | Now housed within navbar (Help > Essential Student Skills) | No. This content is now housed within navbar (Help > Essential Student Skills) |