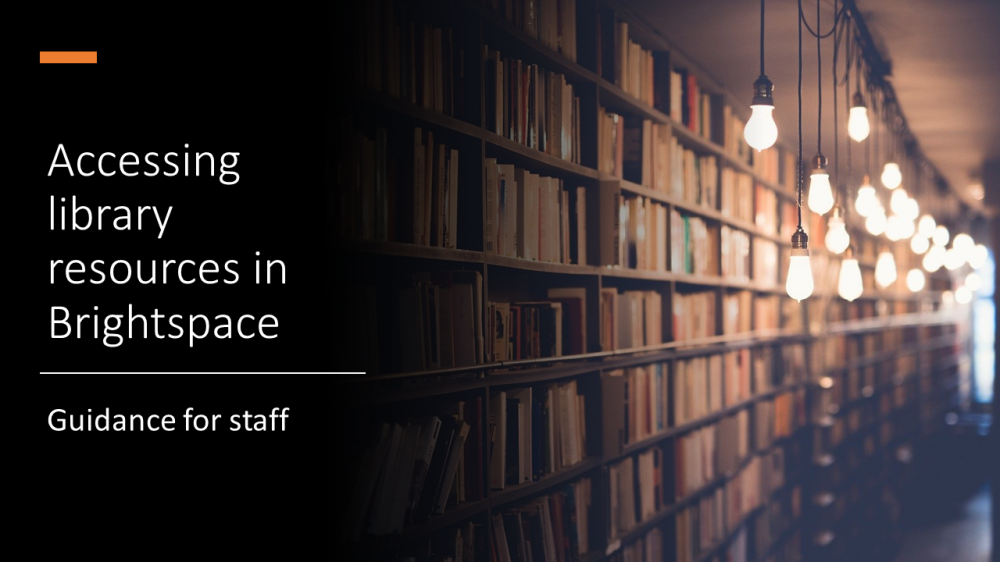 Introduction
UHI Libraries combines both physical and virtual resources. They are made up of all of the physical holdings available in the colleges and learning centres, and all of the electronic resources (including full text e-books and e-journals, multimedia and maps) that UHI makes available via the library pages.
Searching for content in UHI libraries is straight forward, thanks to Library Search – a tool that searches UHI's physical and owned/ subscribed eBook and eJournal collections. Results are displayed in order of relevance and can filtered in a number of ways. Some collections e.g. maps, primary sources and reports, can only be accessed and searched via the UHI library A-Z Online Collections pages - please contact your local librarian for more information.
When it comes to connecting to library resources (and guidance) in Brightspace, there are two main ways you can do this:
Via the navbar
Via individual items in the Content area
The UHI library team has produced guidance to compliment the resources they provide for staff and students. Wherever possible in this short guide, we will link to examples of this guidance, which is regularly updated.
On the next page we will look at how you and your students can access library resources via the navbar in any Brightspace unit or module.
Accessing library resources via the navbar in Brightspace
One way that you can access library resources, and guidance, in Brightspace is via the heading Library Resources in the navbar.
Clicking on Library Resources reveals a six item drop-down list:
Module Resource Lists
Library Homepage
LibGuides
Library Video Guides
Referencing Guidance
eResources
Library Chat
Learn more about each of the items in the drop-down list below (click on any image to enlarge).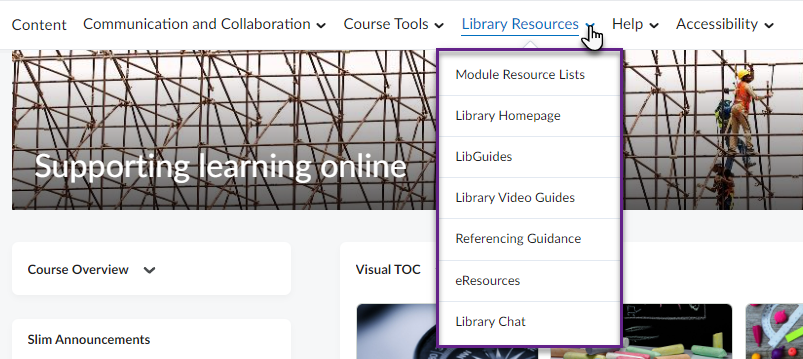 On the next page discover how to embed library resources directly into the Content area of your unit/module.
Accessing library resources in the Content area of Brightspace
Links to library resources can also be added directly to the Content area of a Brightspace unit or module. On this page we deal with how to bring in resources from a reading list and how to create links to individual items discovered through the Multisearch tool.
You can embed module reading list content (e.g. eBooks) directly in Brightspace. The library list the following advantages of doing this:
An improved student experience by providing easy and consistent access to reading materials.

Lists are available at point of need, so there's no need to search a separate system or visit the library website.

Ensure stable access to learning resources over time. There's no need to copy and paste links or details into the VLE, as Talis creates

persistent

links to a wide variety of resources.

Add weekly reading or

sub categories

with additional reading that is specific to a particular seminar or assignment.

The ability to annotate lists to provide additional context to students. How much of the resource should they read? What pages? What key themes should they focus on?
Note: The available embedding options depend on how the list has been structured in the Talis Aspire reading list software.
Richard Hughes from the UHI Libraries team has created a very helpful video about embedding reading list content in Brightspace. Click on the picture below to access (*Note: you may have to login to see the video).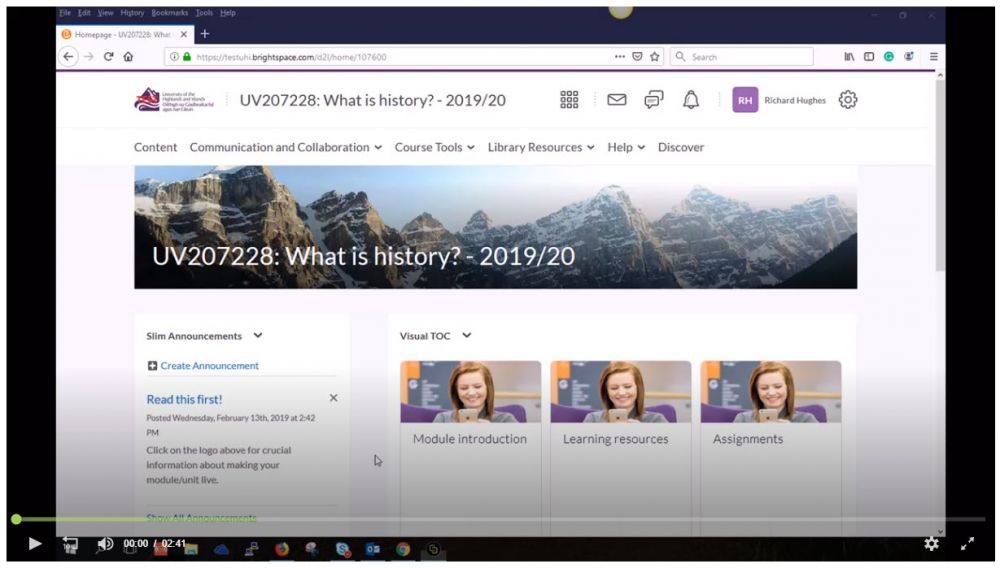 Visit the full Module Reading Lists (Staff) LibGuide page for more information
Another way to add direct links to library resources in Brightspace is by using the Create a Link function from the Brightspace Upload / Create menu.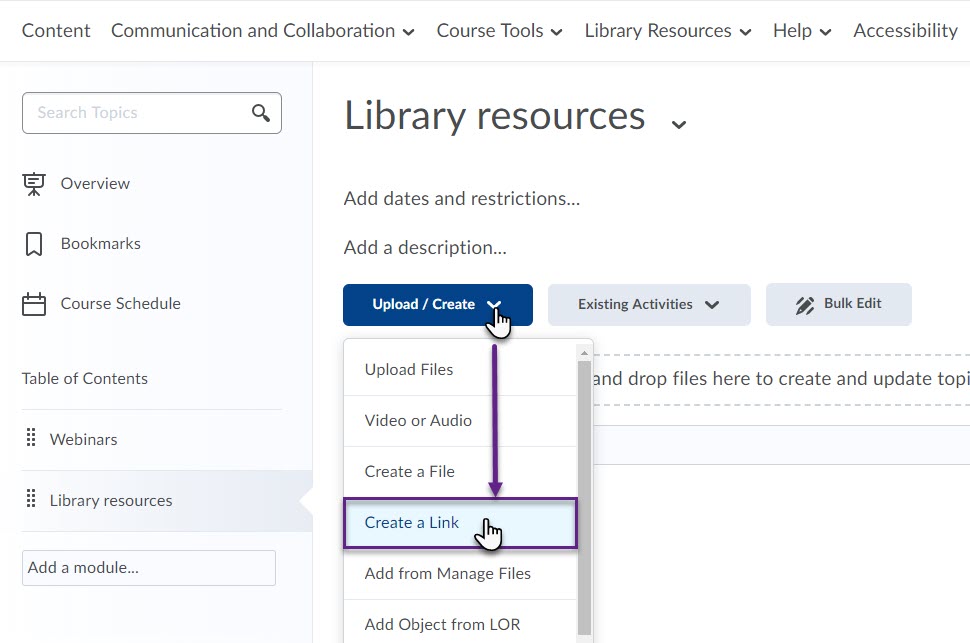 To create a link to a library resource
follow these steps
: