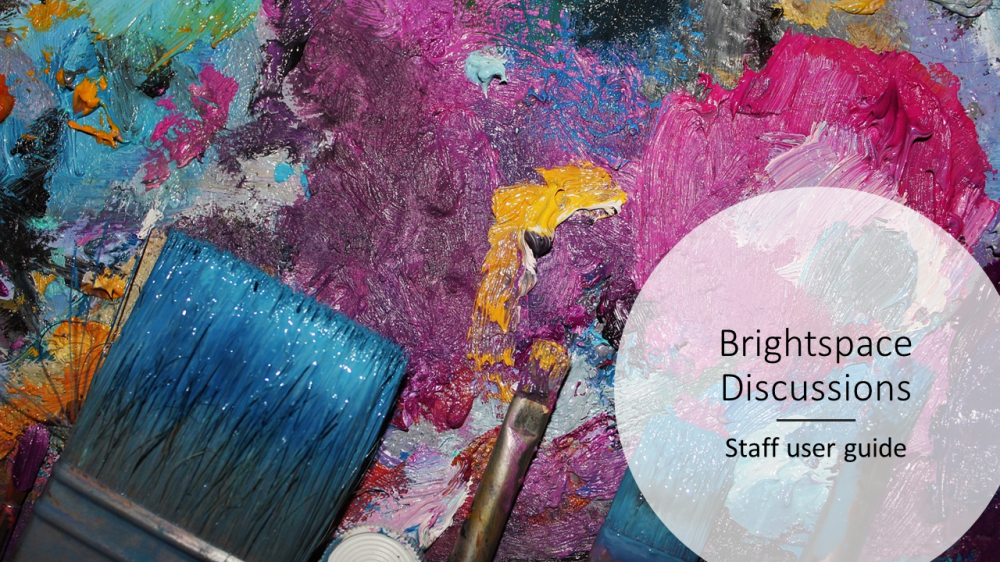 Introduction
The Discussions tool in Brightspace provides staff and students with an area to communicate and collaborate, to pose questions, and to share information and opinions. One of the key benefits of a discussion tool is that it allows time for reflection - it is an asynchronous tool. Staff and students can consider what they want to write, based on their own thoughts and those of others, before clicking 'Post'.
This guide will give an overview of the Discussions tool before going into some detail about the various ways discussions can be managed and interactivity measured.
Also, along the way, you will find some useful tips and tricks - these will be highlighted in blue.
Overview
Accessing the Discussions tool
The Discussions tool can be found in the Communication and Collaboration area of the Brightspace navbar.
Tips and tricks: to access a discussion, you can tell your students to go straight to the Discussions area via the navbar (picture opposite); however, this is not the only way - you can create an area (known as a module or sub-module in Brightspace) in your Table of Contents for discussions, you can embed them in announcements or you can link specific discussions directly into course items using a quicklink. Illustrated guidance on how to do this follows later in this resource.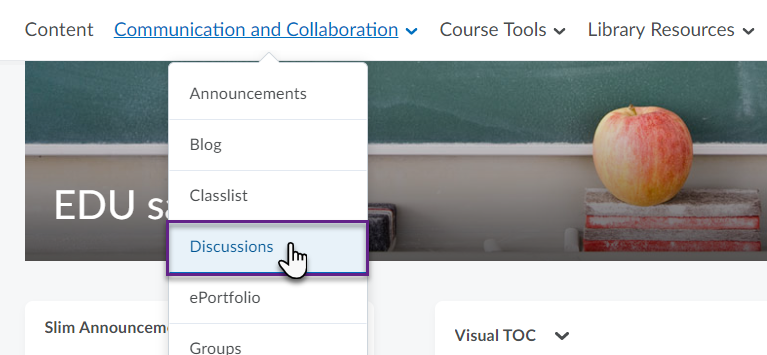 A hierarchy
The Discussions tool has four main levels in its hierarchy: Forums, Topics, Threads and Posts.
Over the next few pages we'll cover how to set up content in each level of this hierarchy.
Creating a forum
Go to: Communication and Collaboration > Discussions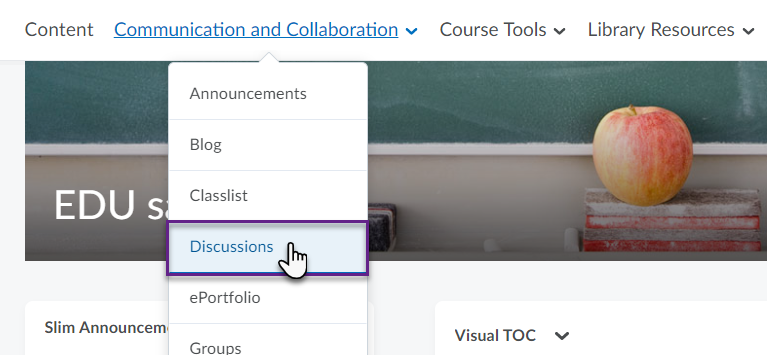 From the drop-down list select New > New Forum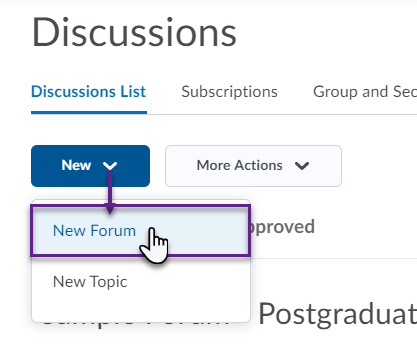 In the Properties tab give the forum a title and a description.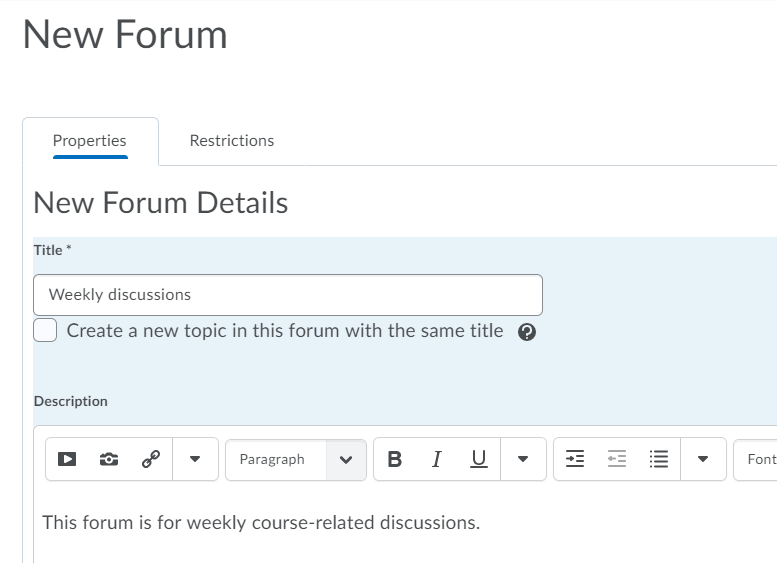 As you scroll down you will see various options that may be applied to a how instructors and learners interact with the forum (you can allow anonymous posts, request that a moderator must approve posts before they can be displayed, you can require students to start at least one thread before they can read or reply to any other threads, and you can set the forum description to be visible). Select as appropriate.
Note: Please note that any options that you set at the forum level will automatically cascade down to any topics held within that forum.
You can also adjust availability (which can include date restrictions) and locking options (a way to stop ongoing discussions). If you do include date restrictions you can choose to add this information to the module calendar.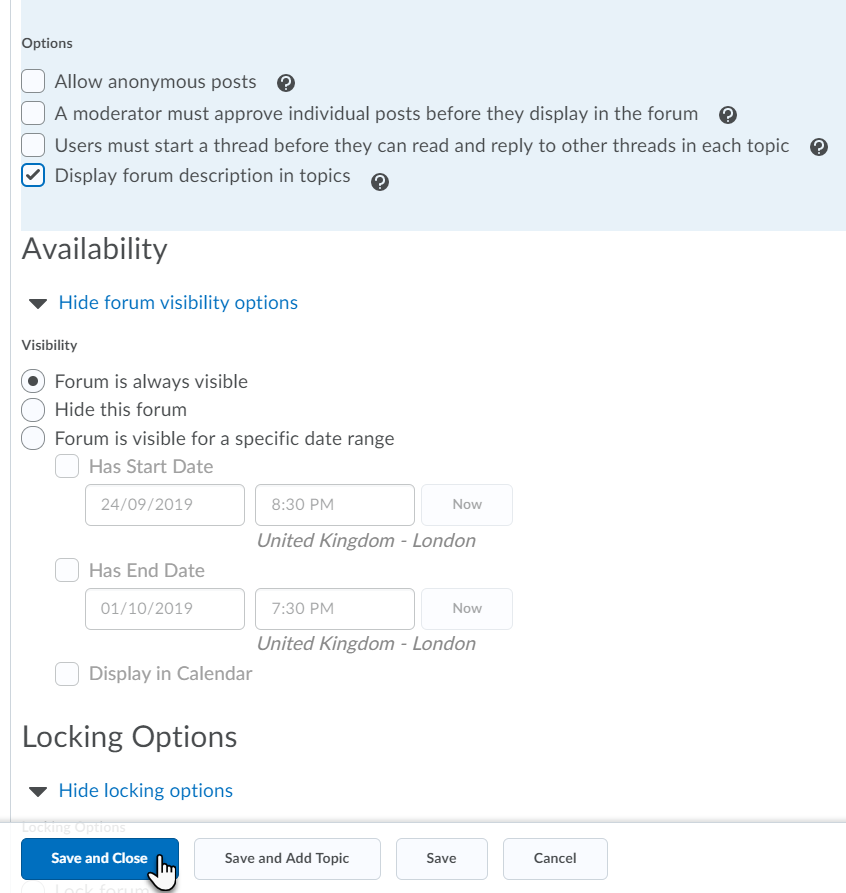 Restrictions: At this point, if you have any other restrictions that wish to put on your forum, scroll back up and click on the Restrictions tab. Within the Restrictions tab there are a great many options for controlling access, for example, you can give access to particular groups only, you can tie access to the completion of an activity, or to a score in a quiz, etc. To attach restrictions, click on either Attach Existing (if you have any pre-existing release conditions) or Create and Attach. Clicking on Create and Attach will show you the wide array of possible release conditions. Select as appropriate and click Create.
When complete, click Save and Close (*alternatively, if you are ready to add topics to your forum, you can click Save and Add Topic).
Allowing participants to post anonymously in discussions
As you might have noticed on the previous page, there is a check-box when setting up forums (and topics) for Allowing anonymous posts.
Discussion tools are a staple of online education, offering valuable opportunities for well thought-out interactivity – but, especially at the start of a module, or if a controversial topic is being discussed, some students may feel reticent to get involved or add their name to a post. By allowing for anonymous posting, Brightspace offers a way to make this easier on such students.
Note: If you set up forums/topics to allow anonymous posts, technically all those (including teaching staff) enrolled on the unit/module will be able to post anonymously.
Follow the steps below to set up discussions which allow anonymous posts:
Creating a topic
Go to: Communication and Collaboration > Discussions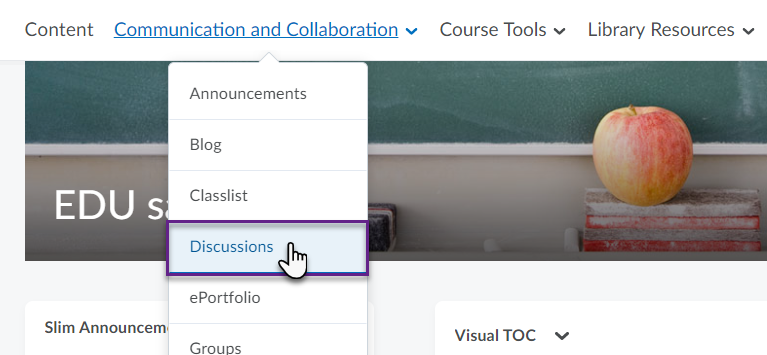 From the Discussions drop-down menu select New > New Topic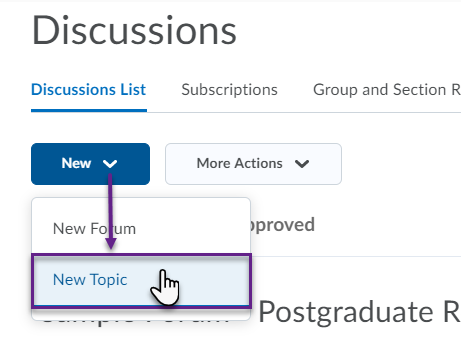 There are 4 tabs on the New Topic screen: Properties, Restrictions, Assessment and Objectives.
Properties:
In the Properties tab, select the parent forum that you wish the topic to fall under (Note: you can also create a new forum from this screen, which saves you going backwards).
Select if you wish the topic to be open to all or restrict access by group.
Give the topic a title and description (Note: the Description area is a good place to lay out any particular instructions you wish the students to follow)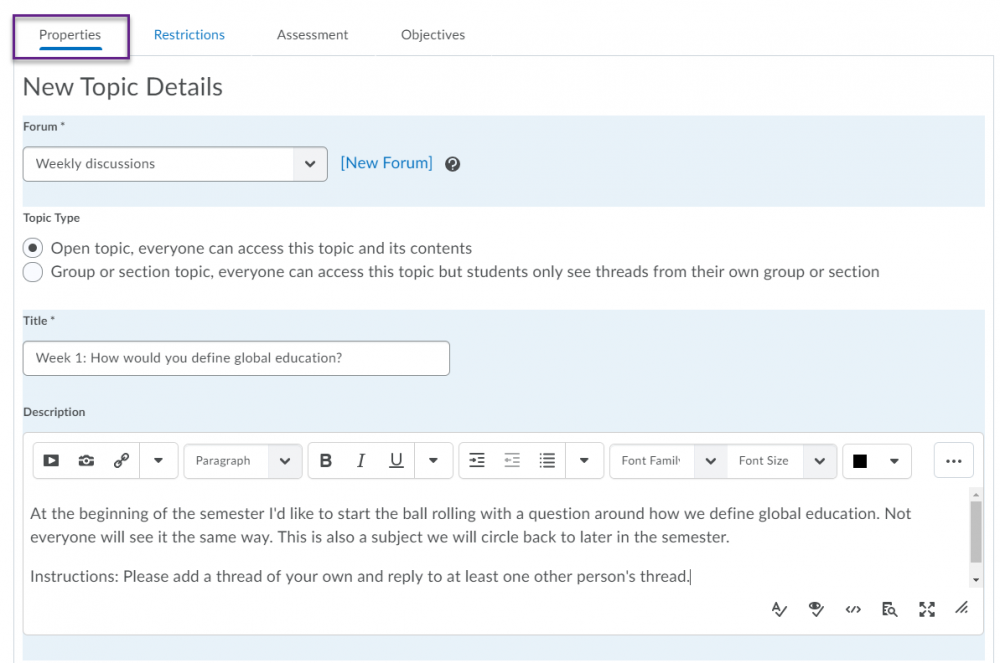 Restrictions:
Exactly the same options as were available at the forum level: access for particular groups only, access tied to the completion of an activity, or to a score in a quiz, etc.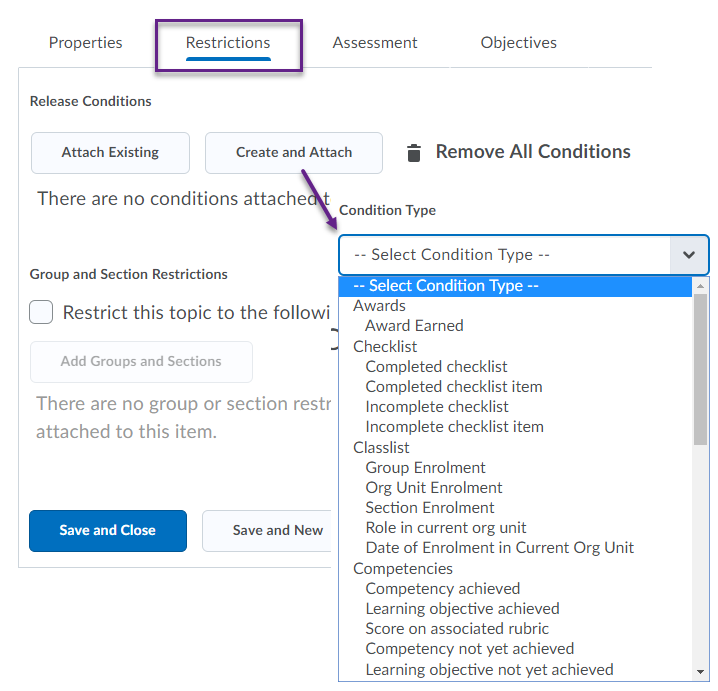 Assessment:
If you intend to grade participation in the thread do so here. If you do intend to grade participation, it is strongly recommended that you select the option to associate the thread with a grade item so the final mark can be automatically linked to the Grades tool. If you do not have one already set up for this purpose, simply click on New Grade Item to do so. You must have a score Out Of if you are grading. You can also add a rubric and allow assessment of individual posts.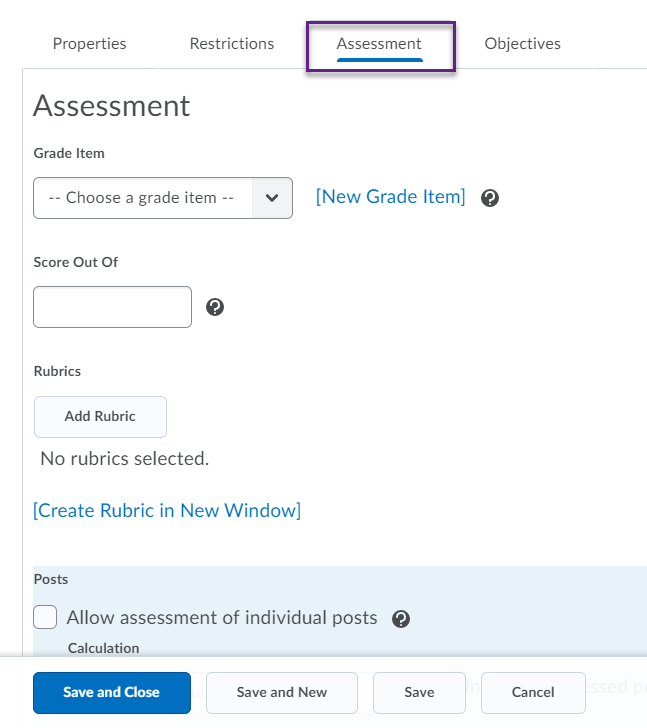 Objectives:
The Objectives tab allows you to associate pre-existing learning objectives with participation in the discussion. Brightspace defines Learning objectives as 'the things that a person needs to learn in order to acquire a competency/become competent in a given domain. They are comprised of associated activities which, when completed, complete the learning objective.'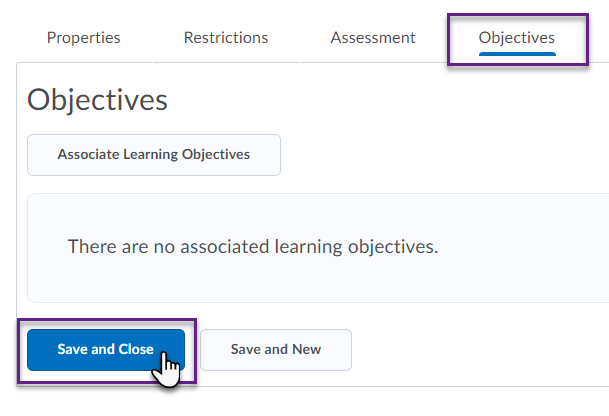 Creating and replying to threads
to create a thread - go to: Communication and Collaboration > Discussions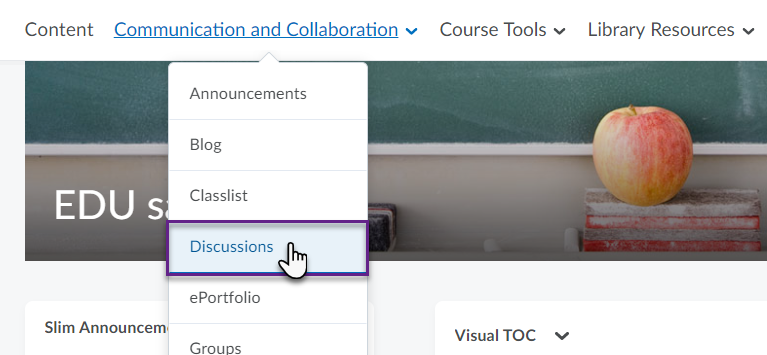 From the Discussions list, scroll to the topic you wish to add a thread/s to.
In our example opposite there are currently no threads. The question posed in the topic is clear, as is the instruction that all students should start a thread (to share their definition) and reply to at least one other person. At the beginning of a semester, this is a sensible way to get everyone used to the Discussions interface.
To post a thread in response to the question posed in the topic, click on Start a New Thread.
Tips and tricks
: Clicking on Subscribe under the topic title (shown opposite) means that the user will be notified whenever anyone posts to this topic. There are three options for how such notifications will be displayed: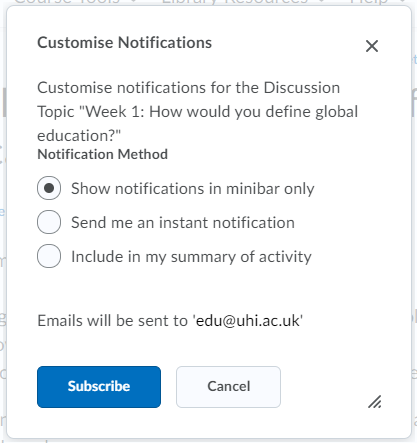 Students must give their thread a title; a full html editor allows for the thread itself to be composed of text, images, links, even multi-media. They can also add attachments.
When a student starts a thread, the default is for them to be automatically subscribed to the thread (meaning they will receive notifications when others reply). If the student does not want to be notified, they should remove the check mark.
Once they are ready, the student clicks Post. At this point, unless moderation is in effect, the thread is visible to all others who have access to the topic, and can accept replies.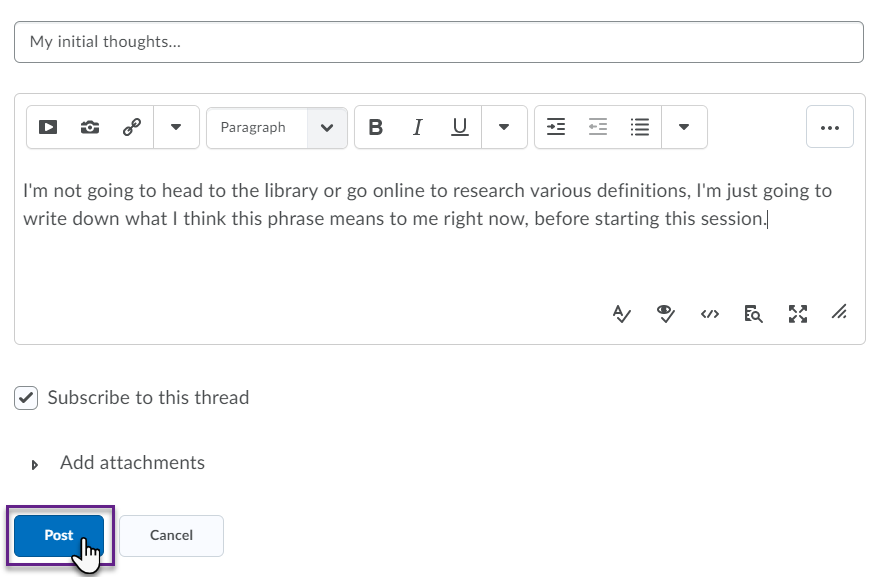 To reply to a thread, from the Discussions list, click on the title of the thread. You will then see a button: Reply to Thread.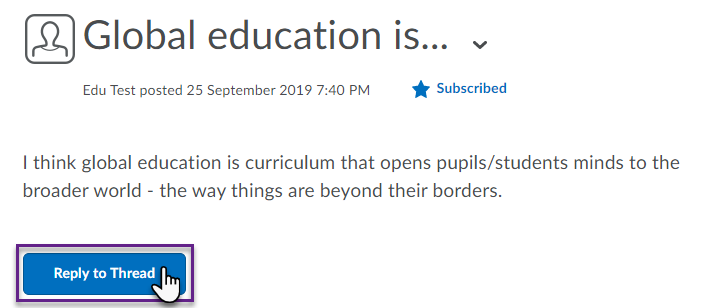 Clicking on this takes you to a page very much like the Start a New Thread screen, where you title your reply, add text, imagery etc.
When ready, click Post.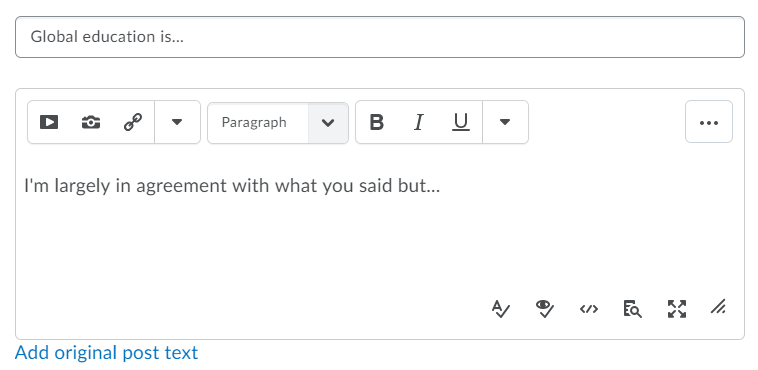 Once there are replies to threads, the option to reply to the reply will be available in addition to reply to thread.
It's perfectly possible that this process could go several layers deep, especially if there are multiple opinions involved .
Tips and tricks
: As replies to replies build up if you are in select Threaded from the Show drop-down menu, each new reply will be indented - making it's position in the hierarchy more obvious.