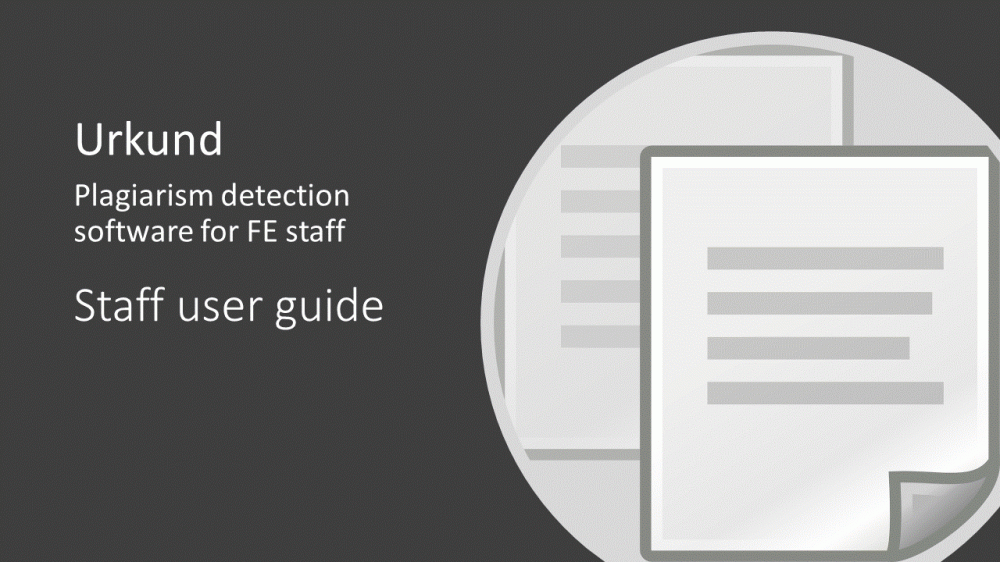 Introduction

What is Urkund?
Urkund is a text-recognition tool, accessible from within Brightspace, which can be used to detect possible plagiarism within a piece of writing.
Important:
The university has been licensed to use Urkund at FE level only. At HE level, Turnitin should be used to check originality.
How does it work?
When tutors create an assignment in Brightspace, they can specify whether student papers are submitted to Urkund. The text is analysed and checked with potential matching sources from academically published material, the Internet, and previously submitted student documents. When a document displays similarities to other sources a matching profile begins to take shape. The degree of the matches is recorded and any usages of paraphrasing and synonyms are also taken into account. A report is generated and made available to the lecturer via Brightspace.
Supported files
Urkund supports the following file formats: .doc, .docx, .xls, .xlsx, .sxw, .ppt, .pptx, .pdf, .pdf 2.0, .txt, .rtf, .html, .htm, .wps, .odt, .odp, .ods, .tif, .tiff, .ps, .hwp, .zip and .pages. Documents submitted to Urkund should not contain any document protection or encryption.
Creating an assignment
To create an assignment, select Assignments from the Course Tools with Urkund menu.

Use the blue button to create a new assignment and enter an assignment name with instructions to students as usual, specifying the Assignment Type to be File submission.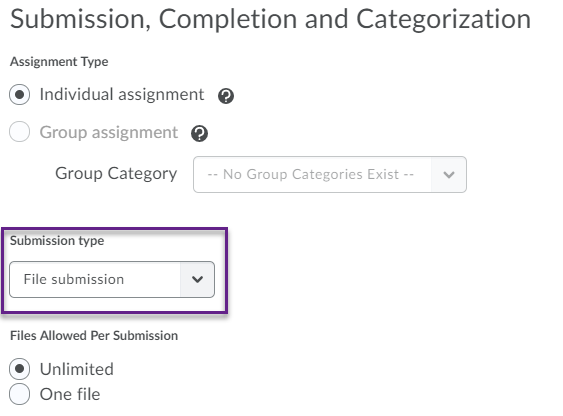 Other assignment settings can be specified as required, for example, a due date can be specified in the 'Restrictions' tab. In the Restrictions tab there is also tickbox that needs to be cleared to make the assignment available to students.
The EDU has create a comprehensive guide to creating assignments which is available in the
Support Portal
.
Adding plagiarism detection to an assignment
Once you have created an assignment, select Urkund from the Course Tools menu (shown opposite).
Note: When accessing Urkund for the first time a one-off message will appear: 'Application Customization Configuration v1.0 by Desire2Learn Incorporated is trying to access your information. Would you like to proceed?'

Put a tick in the box beside 'Do not ask me again for this application' then click the Continue button.

Students will also see this the first time they open an assignment associated with Urkund.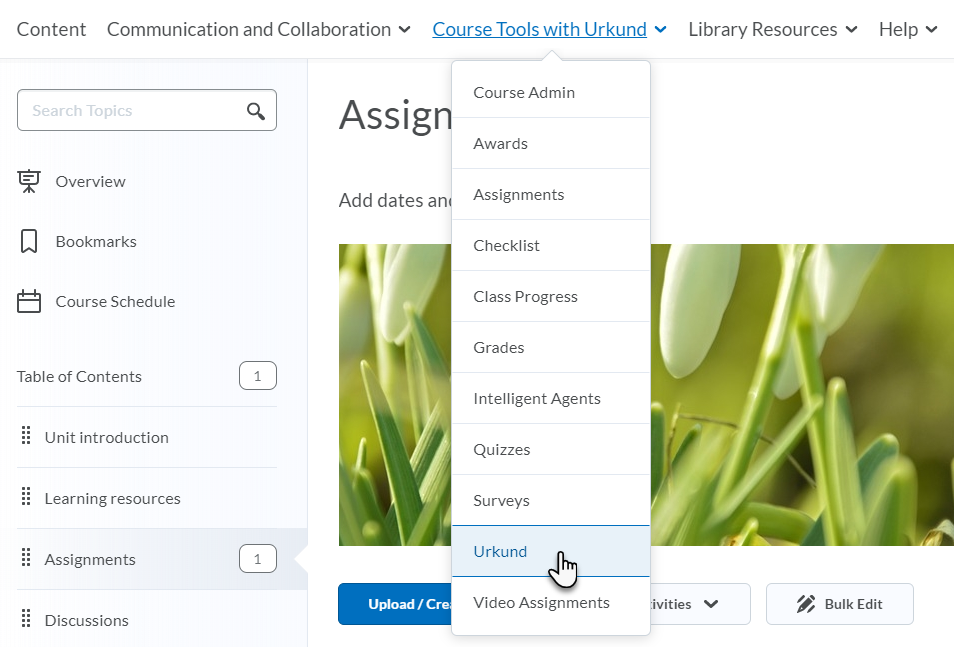 On the next screen, on the left-hand side, you will see a list of the assignments you have set up for your unit; on the right side of the screen in the column, labelled Turn On/Off Plagiarism Detection, you can switch on Urkund checking for that particular assignment.

When you click to turn on plagiarism detection, you are asked if you are sure you want to enable this. Click Yes.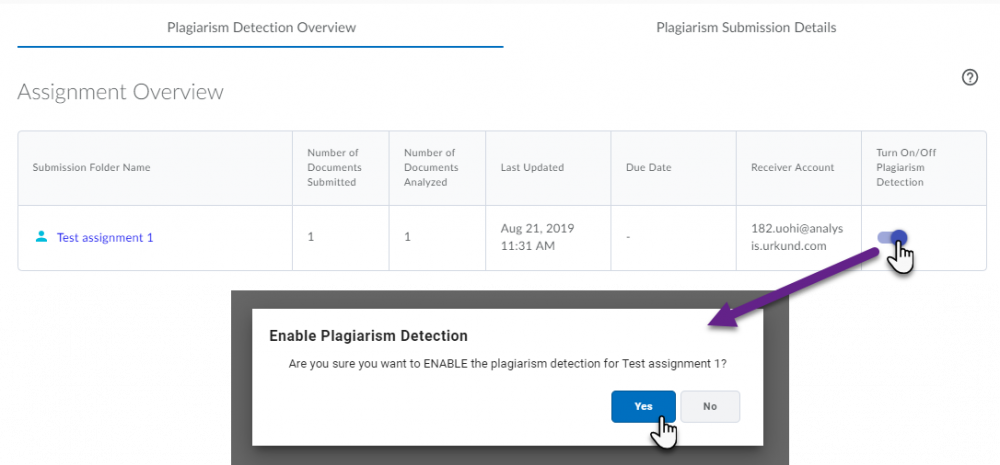 That is all that is required to set up Urkund plagiarism detection for a Brightspace assignment.
Viewing an Urkund report
If plagiarism detection has been turned on for an assignment, when a student submits a file it is automatically checked by Urkund and a report produced that tutors can access before feeding back. The sections below show, firstly, how students should submit their work, then how tutors can access Urkund reports.
Although you have turned on plagiarism detection for your assignment, students submit files in the same way as they would if plagiarism detection was off.
When they click on the assignment in Brightspace, they upload either by dragging and dropping or clicking on Upload.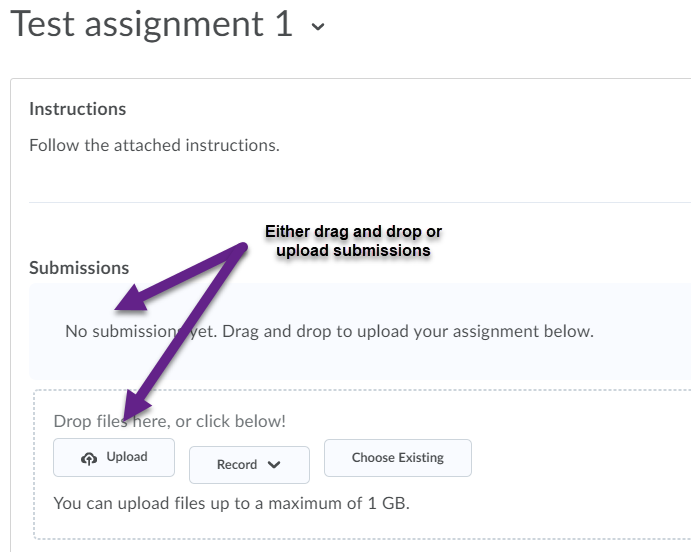 After they have attached a file, they click Submit.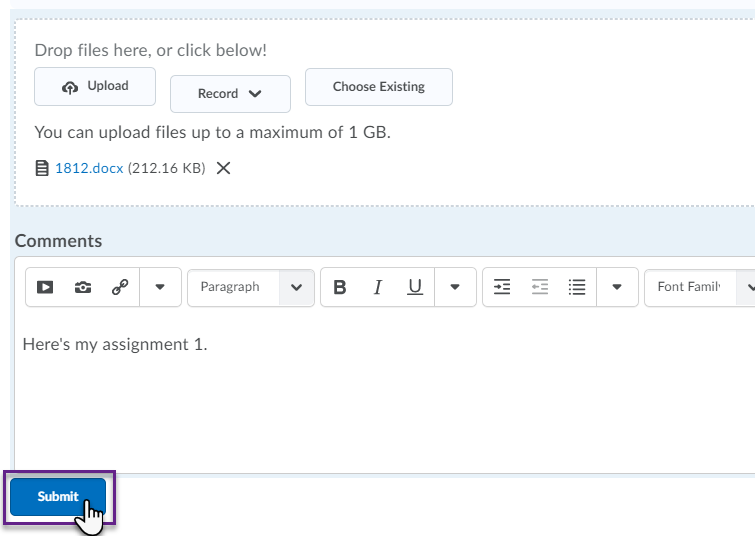 To view what Urkund has discovered about a student's submission, click on Urkund from the Course Tools with Urkund menu.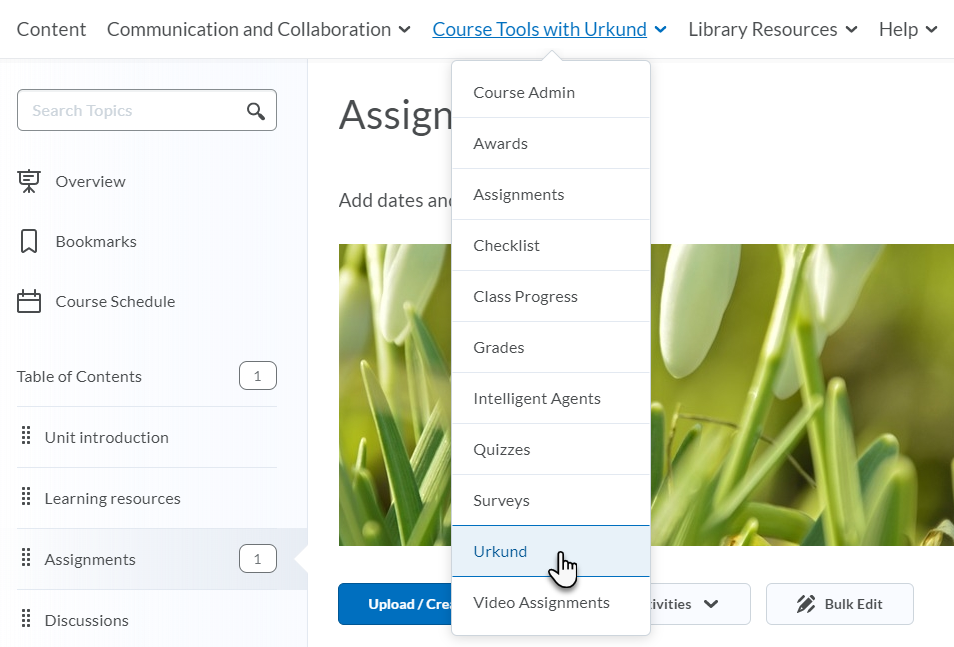 Initially you will be shown an overview of your assignments and how many submissions there have been.
To get further details, click on Plagiarism Submission Details.

You will immediately see a similarity figure but to get a full report, click on Show Details, then on the submission's file name.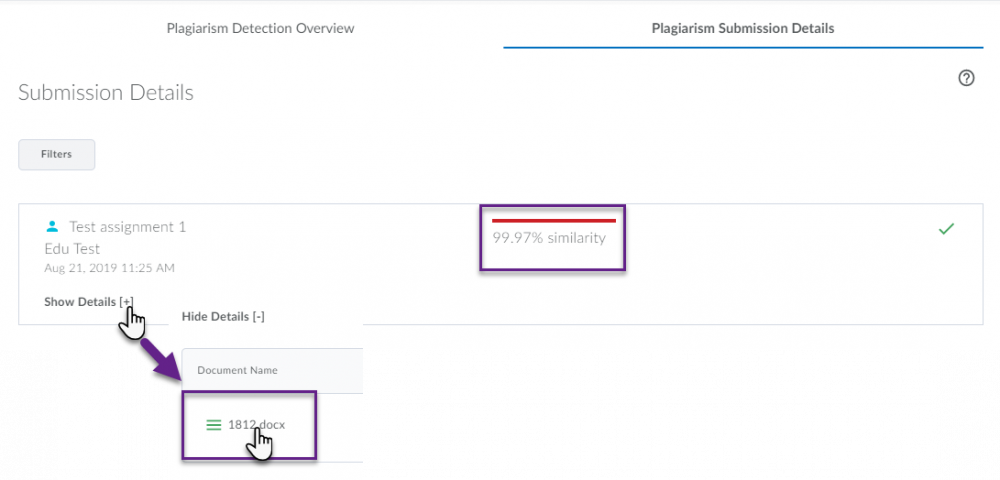 At this point you can either view the Urkund report or leave feedback for the student. Click on View Report.

View Report opens Urkund in a new tab, where you can see what Urkund found in the submission. The screen offers you an interactive overview. In the top left each page is laid out individually. The orange areas represent matching blocks and clicking on any of them will bring up an informative popup detailing the text followed by their analysis of possible sources (shown opposite)


Note
: Urkhund recently updated their interface - by default you will be shown their new interface; however, if you are used to or prefer the old view there is a slider at the top right of the screen:

Clicking on the orange waffle beside the heading 'MATCHING TEXT' gives you another way of looking at possible plagiarism. This is essentially the same information as is shown in the popup above in a different layout: you can either view findings in the order they appear in the document (FINDINGS), or by active source (SOURCES) or view the document in its entirety (ENTIRE DOCUMENT).
The beauty of this upgraded interface is that every highlighted finding is clickable - revealing further information (including source and % match).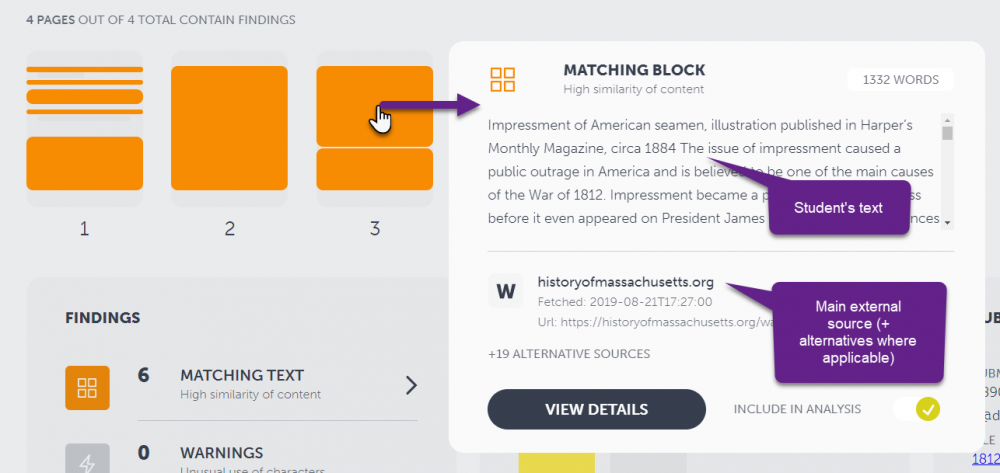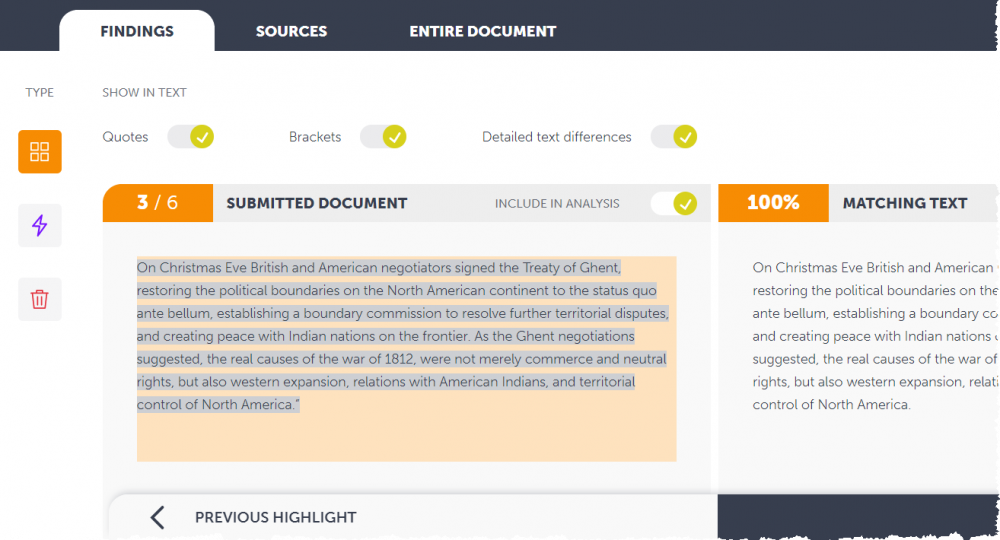 Any listed source of plagiarised material is interactive also. Clicking on a link in the list of sources will take you to the web site Urkund believe the submission has pulled from.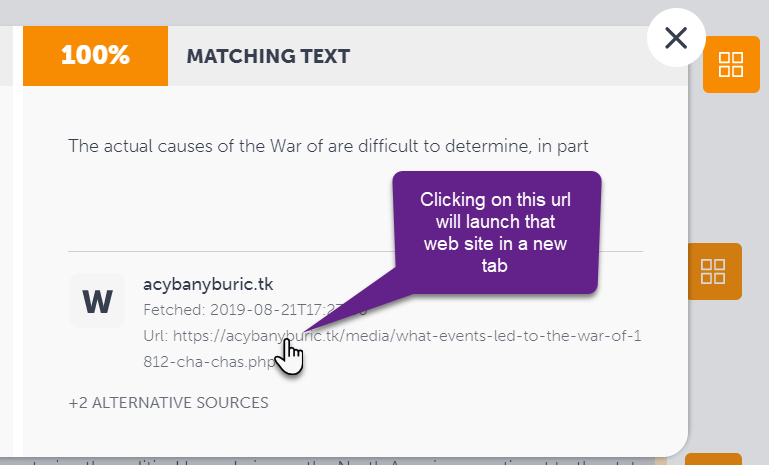 Giving feedback to students
To give students feedback on their submissions, you need to return to the Urkund Plagiarism Submission Details page in Brightspace
(go to: Course tools > Urkund > Plagiarism Submission Details).
On the Plagiarism Submission Details page, click on Show Details beneath the assignment.

Then, click on the submission document title - but this time select 'Submission Feedback' (shown opposite). This opens the assignment submission in a new browser tab.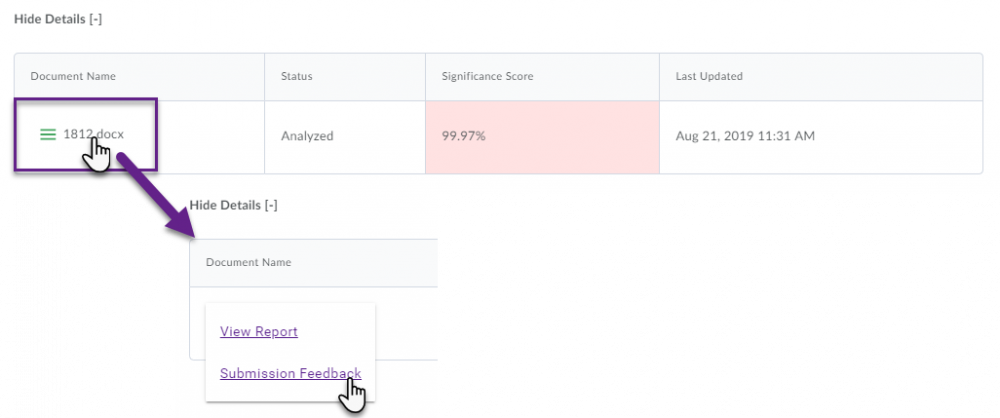 Add feedback as appropriate (in the area highlighted in the picture opposite).
When complete, click Publish.
Note: It should be noted that the Urkund report is not available to students until feedback is placed on the assignment.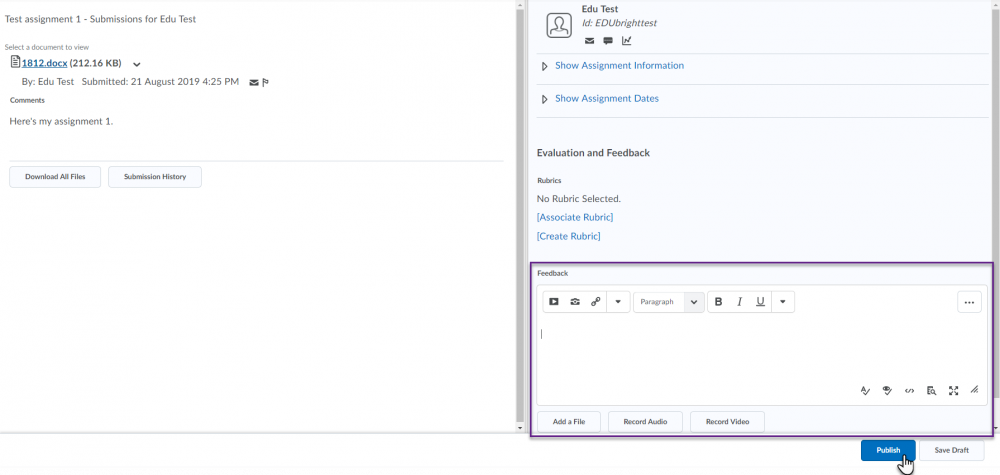 After clicking Publish you are given an opportunity to Update or Retract (which stops users seeing their results and feedback).
Once you have clicked Update, simply close the tab.

How students view Urkund reports and tutor feedback
To view their Urkund report and your feedback, students should first click on Urkund from the Course tools with Urkund menu.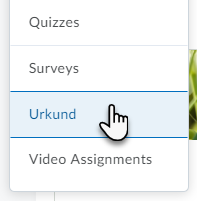 Clicking Urkund will take them to a screen titled Assignments Analyzed for Plagiarism. To view further information, students should click first on Show Details, then on the document title where they can select 'View Report' or 'Submission Feedback'.
Note: This menu item only becomes available for students when the tutor has added feedback.


View Report shows them exactly the same information that Urkund showed you as a member of teaching staff.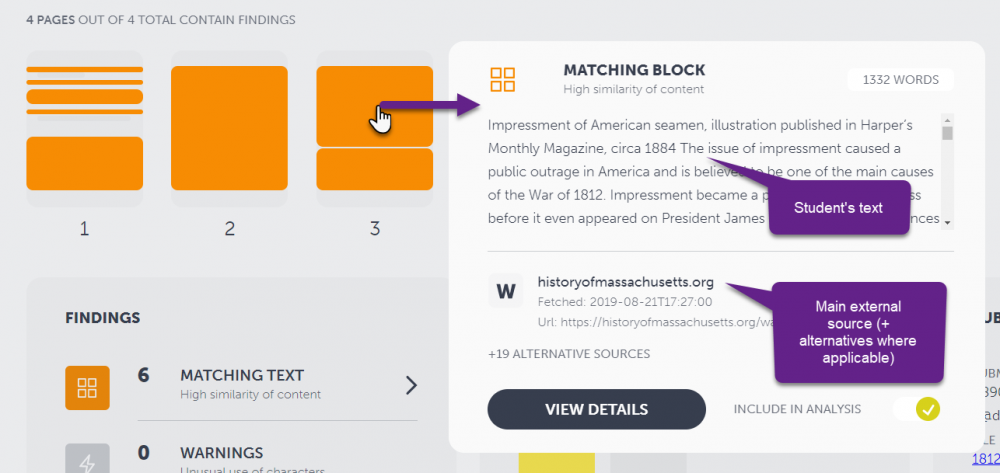 Submission Feedback displays the feedback you provided.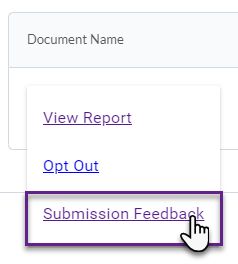 In this test case (which deliberately included a lot of plagiarised material for demonstration purposes) the feedback contains a sense of urgency!