Home page
The university has its very own Toolkit to enable staff to share, search and discover teaching and learning resources. Developed by the Educational Development Unit (EDU), the Toolkit stores a wide range of learning resources created by the EDU in collaboration with teaching teams. These learning resources are relevant to many areas of the curriculum from archaeology to x-ray crystallography. The resources take all forms and may be Word or PDF handouts for a face to face session or self-contained online learning resources, with built-in formative assessment, all of which may be used for teaching.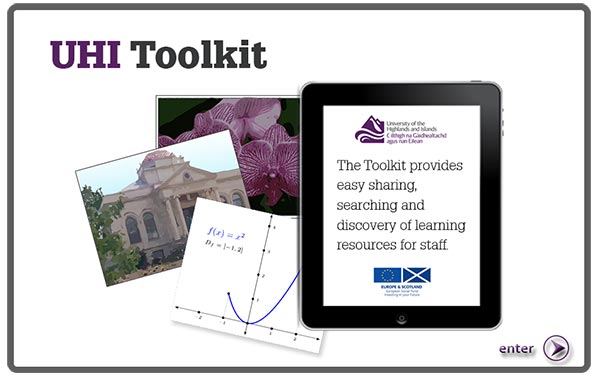 The Toolkit also contains a wealth of resources uploaded by staff including links to useful online resources, digital artefacts, guides and templates relating to many aspects of teaching and learning. Another key feature of the Toolkit is the 'Image Bank'. The Image Bank provides free to use, copyright-cleared images, again all uploaded by university staff.
Many educational institutions are now creating ways to encourage staff to share resources. With over 1000 users, the Toolkit provides a mechanism for staff to collaborate, share and exchange resources and to create a body of knowledge available across the university. The following sections explore how to become one of those users and how to search, discover and upload resources.

We welcome any comments on how to improve this unit. Please feel free to pass these on at any time.
If you have any difficulty viewing this resource please contact EDU (edu@uhi.ac.uk) with:
the name of the resource;
a description of the problem (please give as much detail as possible);
the section of the resource where the problem occurred;
your internet browser (you can check your browser version at: http://detectmybrowser.com/).
UHI provides links to external sources of information and may refer to specific Web sites, products, processes or services within this resource. Such references are examples and are not endorsements and whilst every effort is taken to ensure the accuracy of information provided UHI is not responsible for any of the content or guidance. You are advised to exercise caution.
×