Tips for preparing for a good tutorial
If using voice or video (to present or ask questions), a high quality headphone/microphone headset is recommended to eliminate feedback through PC speakers, and remove background noise.
Plan the session thoroughly - this does not mean that you have to plan every minute or detail but at least have a framework to work within and a bank of pre-prepared activities and interactive material that you can use with the students. Session moderators will need to become comfortable with multi-tasking in a live online environment.
Practice with BB Collaborate at least a couple of times so that you know where all the tools are and how to use them. Ideally, if it is your first time running a session as moderator, try to do a rehearsal. This will also give you a chance to confirm timings so that you can estimate more accurately how long each activity or segment of your tutorial will take.
If not using the video feature, provide a photo of yourself in the icon space; this adds a personal touch and provides the students with something more than a blank icon to look at, enabling them to envisage you as you speak. To upload a photo of yourself, click on the 'My Settings' button on the right then click on the icon at the top next to your name and insert image.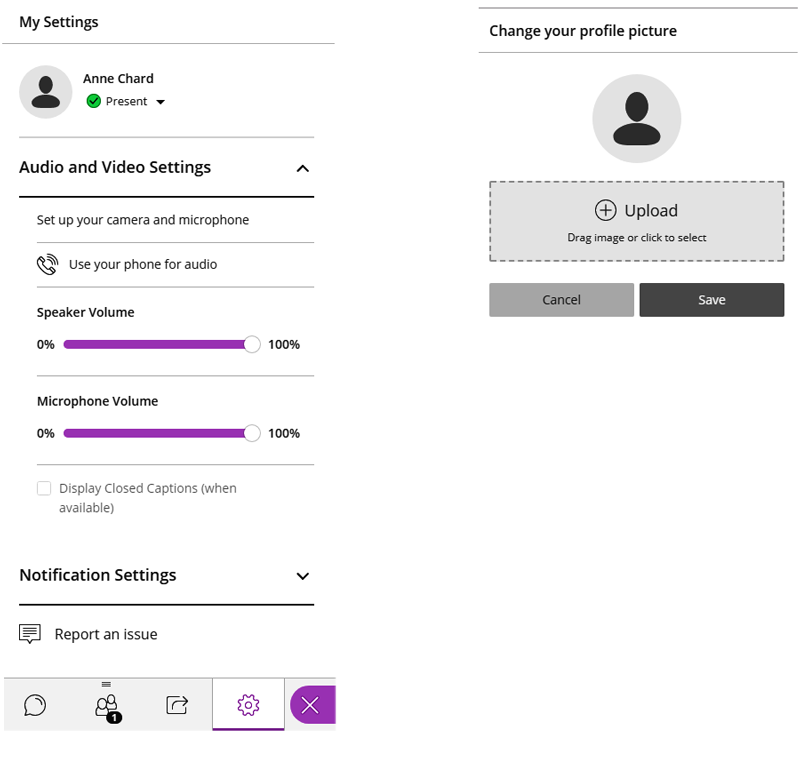 Set up the teaching environment prior to delivery by turning off devices, closing unnecessary applications, diverting phones and putting up 'do not disturb signs'. It is important that applications such as Jabber and Skype are not open at the same time as they may interfere with Collaborate.
It is recommended that during lessons you close all unnecessary applications and stop any downloads. If you are on your own computer at home, turn off automatic updates and virus scans scheduled for the same time as the session, as all of these can interfere with the lessons. This information should also be on the 'Attending a Collaborate session' information that is given to students.
The majority of problems occur at the student end, usually with the audio not being picked up by (some) participants. Ensure all participants check their systems well before sessions to receive/transmit both audio and video.
Join the session early, check audio, participant privileges and load any necessary content.
Have any web links you will be using ready in a file so you can cut and paste them into Collaborate. In the Sharing Tab, items in many file formats such as PowerPoint presentations can be preloaded into the session. You can also load content once the session is open. Resource-intensive applications like Prezi will be very slow to run.

We welcome any comments on how to improve this unit. Please feel free to pass these on at any time.
If you have any difficulty viewing this resource please contact EDU (edu@uhi.ac.uk) with:
the name of the resource;
a description of the problem (please give as much detail as possible);
the section of the resource where the problem occurred;
your internet browser (you can check your browser version at: http://detectmybrowser.com/).
UHI provides links to external sources of information and may refer to specific Web sites, products, processes or services within this resource. Such references are examples and are not endorsements and whilst every effort is taken to ensure the accuracy of information provided UHI is not responsible for any of the content or guidance. You are advised to exercise caution.
×