Active learning - example
This example illustrates how a remotely delivered learning session applied the principles of active learning with the session. The skills development session on using video conferencing to deliver learning to students used a 'staircase' of activities based on Bloom's revised taxonomy.   The session was delivered remotely to eight lecturers in four locations.  The learning outcomes were to:
 be able to use the various pieces of video conferencing equipment;
be able to prepare an effective learning activity;
be able to facilitate an effective learning activity through the medium of VC.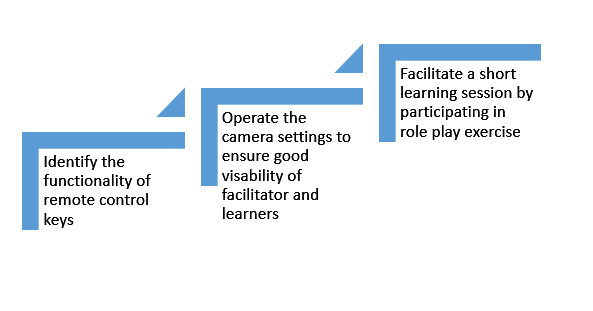 Click to enlarge
The key learning activities for the workshop session started with exploring the functionality of the remote control equipment, moved on to the operation of the camera equipment and then finished with learners, using the knowledge gained from these activities, facilitating a short learning session to the other learners.  These activities involved learners learning through using and experimenting with the equipment.  These activities were all facilitated remotely, with virtual rooms being used by pairs of learners to prepare for the role play exercise.

We welcome any comments on how to improve this unit. Please feel free to pass these on at any time.
If you have any difficulty viewing this resource please contact EDU (edu@uhi.ac.uk) with:
the name of the resource;
a description of the problem (please give as much detail as possible);
the section of the resource where the problem occurred;
your internet browser (you can check your browser version at: http://detectmybrowser.com/).
UHI provides links to external sources of information and may refer to specific Web sites, products, processes or services within this resource. Such references are examples and are not endorsements and whilst every effort is taken to ensure the accuracy of information provided UHI is not responsible for any of the content or guidance. You are advised to exercise caution.
×