Screencasting with Camtasia Relay
A screencast is a screen capture of the actions on a user's computer screen, typically with accompanying audio.

EDUCAUSE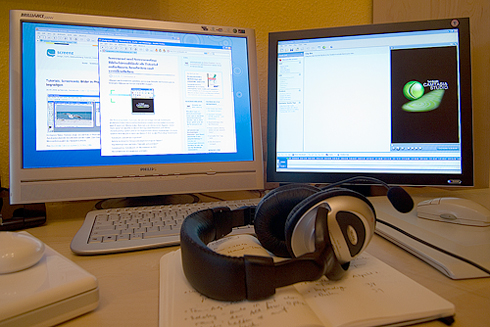 Optimal video length for student engagement = 6 minutes

edX
Screencasting provides a quick and effective way to create rich media content and can be used to create resources that fulfil a variety of purposes. Some examples include:
Replicating traditional lectures: a traditional presentation can be shown on screen with an audio commentary used to present the spoken component of the lecture.
Demonstration: a demonstration on the screen, either a previously recorded video or a process in an application or program can be narrated to create a learning object. This form of screencast is very common for demonstrating how to use software.
The University has invested in a product called Camtasia Relay that will allow all staff with access to a microphone or headset to create high quality screencasts and upload them to the Stream Service. To download the software visit the Camtasia Relay website, enter your usual University login details, and select the option to download the Camtasia Relay Recorders. Algonquin Academic have created a useful video guide on how to use Camtasia Relay to create screen casts.
As with other video and audio recordings it is advisable to limit single screencasts to around 6 minutes as research has shown this to be to optimum duration. Longer topics can be presented through a series of screencasts that have been broken up into discreet chunks and contextualised in the virtual learning environment.

We welcome any comments on how to improve this unit. Please feel free to pass these on at any time.
If you have any difficulty viewing this resource please contact EDU (edu@uhi.ac.uk) with:
the name of the resource;
a description of the problem (please give as much detail as possible);
the section of the resource where the problem occurred;
your internet browser (you can check your browser version at: http://detectmybrowser.com/).
UHI provides links to external sources of information and may refer to specific Web sites, products, processes or services within this resource. Such references are examples and are not endorsements and whilst every effort is taken to ensure the accuracy of information provided UHI is not responsible for any of the content or guidance. You are advised to exercise caution.
×