Introduction
Creating high quality online learning content as part of an EDU project begins with the drafting of learning content by subject specialists. To support subject specialists undertaking this task, two documents have been created:
By using the Word template and the guide, subject specialists can create source content which, when developed into online format, is clearly laid out, well structured, and enhanced by examples, images and links to further learning content.
The use of the review menu within the template allows writers to share ideas with the EDU team, by adding comments, suggestions and links to source materials.
In this example, the subject specialist for the 'PDA Supporting Individuals with Autistic Spectrum Disorder' project provided draft content as shown in the first tab.
This was developed by the EDU team into learning content as shown in the second tab.
The developer, using their knowledge and skills in creating online content, will recommend techniques to display the content to create a clear learning path through the content.
Perhaps the content would be best displayed using tabs, or the use of an image or the creation of a labelled diagram would aid learning.
The developer may also suggest an interaction, such as a short quiz, to allow the learner to assess their learning as they progress through the content.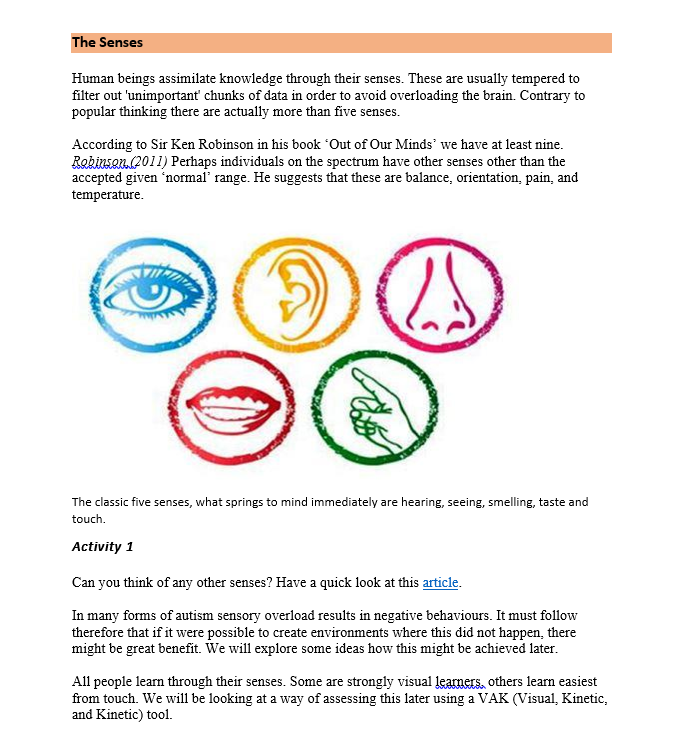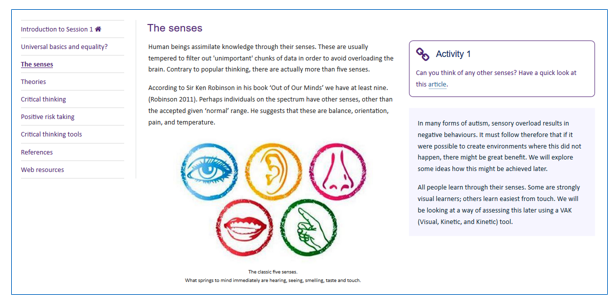 Online resource developed from writers template content

All efforts have been made to ensure materials created by the EDU comply with current accessibility guidelines (JISC: Support for learners with disabilities).
If further assistance is required with accessibility matters please contact the student support section in your academic partner UHI: Accessing learner support.
Links
Unless otherwise stated all external links will open in a new tab/window
We welcome any comments on how to improve this unit. Please feel free to pass these on at any time.
If you have any difficulty viewing this resource please contact EDU (edu@uhi.ac.uk) with:
the name of the resource;
a description of the problem (please give as much detail as possible);
the section of the resource where the problem occurred;
your internet browser (you can check your browser version at: http://detectmybrowser.com/).
UHI provides links to external sources of information and may refer to specific Web sites, products, processes or services within this resource. Such references are examples and are not endorsements and whilst every effort is taken to ensure the accuracy of information provided UHI is not responsible for any of the content or guidance. You are advised to exercise caution.
×