Summary
Creating learning resources as accessible PDFs in this way can have a number of benefits for you and your students including:
The format is independent of the software, hardware or operating system and is therefore highly accessible.
The file size tends to be smaller in comparison with other formats.
Inbuilt features provide effective navigation within the document.
Inbuilt features provide a range of accessibility features, including compatibility with screen readers and colour adjusters.
Non-text elements, including hyperlinks and images, are integrated easily.
Files are easily updated by editing the original document in Microsoft Word then reproducing as a PDF.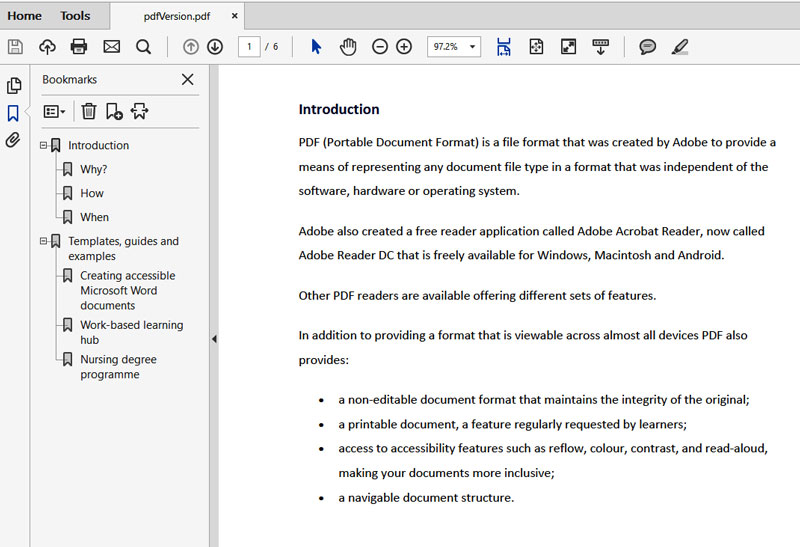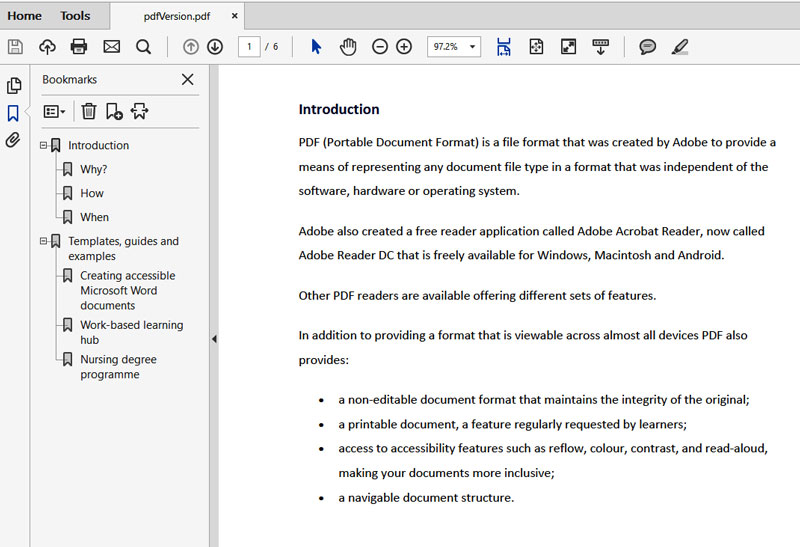 The navigation functionality within a pdf reader
×

All efforts have been made to ensure materials created by the EDU comply with current accessibility guidelines (JISC: Support for learners with disabilities).
If further assistance is required with accessibility matters please contact the student support section in your academic partner UHI: Accessing learner support.
Links
Unless otherwise stated all external links will open in a new tab/window
We welcome any comments on how to improve this unit. Please feel free to pass these on at any time.
If you have any difficulty viewing this resource please contact EDU (edu@uhi.ac.uk) with:
the name of the resource;
a description of the problem (please give as much detail as possible);
the section of the resource where the problem occurred;
your internet browser (you can check your browser version at: http://detectmybrowser.com/).
UHI provides links to external sources of information and may refer to specific Web sites, products, processes or services within this resource. Such references are examples and are not endorsements and whilst every effort is taken to ensure the accuracy of information provided UHI is not responsible for any of the content or guidance. You are advised to exercise caution.
×